COVID-19 UPDATE (5/13/20)
The Rutgers Plant Diagnostic Laboratory is operational and processing samples received via shipment. (In accordance with University policy, we are not able to accept sample drop-offs at our building.)
Please email us directly for assistance—we are committed to doing all we can to help you with your plant health needs, including looking at physical samples. Campus buildings are locked and we cannot accept sample drop-offs. Carefully follow the directions below for sample submissions during this time.
Please contact us via email (richard.buckley@rutgers.edu and/or sabrina.tirpak@rutgers.edu) if you need further instructions for sample submissions.
See fee information, sampling instructions, and submission forms to accompany your physical sample.
Samples may be shipped via UPS or US Postal Service directly to our street address:

Rutgers Plant Diagnostic Laboratory
Ralph Geiger Turfgrass Education Center
20 Indyk-Engel Way
North Brunswick, NJ 08902

Please email us to inform us when to expect your sample—we will need to retrieve it from central campus mail services.
DO NOT send samples to PO Box 550, Milltown, NJ—they will not be able to be retrieved.
DO NOT try to leave samples outside of our building—the farm gates are locked and you will not be permitted entrance.
Emailed photographs are helpful when they accompany a physical sample, but we cannot make an accurate diagnosis or identification from a photograph alone.
Please return to this website to monitor lab status as the pandemic situation changes. Thank you for your patience as we deal with this unprecedented situation—we will do our best to minimize delays.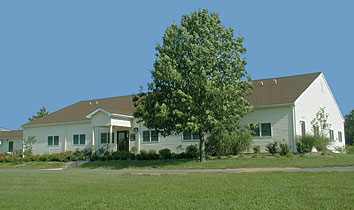 The Plant Diagnostic Laboratory is a full-service plant health diagnostic facility of Rutgers New Jersey Agricultural Experiment Station (NJAES). Our mission is to provide accurate and timely diagnoses of plant health problems for the residents of New Jersey.
Located on the Cook Campus, the Plant Diagnostic Laboratory provides plant health diagnostic services in cooperation with Rutgers NJAES Cooperative Extension faculty and staff. There is a user fee for this service.