COVID-19 UPDATE (7/8/21)
Rutgers Soil Testing Laboratory staff are still at work, providing fee-for-service analysis of soil samples and generating reports/recommendations for all clients. Appropriate safety procedures and precautions are being followed to assure and protect the health of staff, including social distancing and use of personal protective equipment. Public access to the Soil Testing Laboratory will remain limited until further notice.
How to Get Soil Tests?
Soil test kits may be available for purchase locally depending on county-level policy relating to access to offices of Rutgers Cooperative Extension. Please contact your county office of Rutgers Cooperative Extension to find if soil test kits are available for purchase there.
OR
Visit our page How to Get Your Soil Tested, and find the appropriate Soil Sampling Instructions and Soil Test Questionnaire for your situation; see headings for different land use and crop scenarios. Read and follow the instructions; download and fill out the questionnaire; then send soil sample and questionnaire with payment to the lab by mail or delivery service, or drop off sample/questionnaire/payment at the lab as described below.
Sample Drop Off at the Soil Testing Lab
As of July 6, 2021 soil samples may be dropped off at Rutgers Soil Testing Laboratory using the side entrance of Rutgers' Administrative Services Building II (glass door on southwest side of the building) under these conditions:
Paperwork (soil test questionnaires) should be filled out in advance and accompany soil samples, inside a bag or box with samples.
Drop-off location is the

southwest entrance/foyer of ASB-II

. The glass door at this entrance is labelled: "Equine Science Center/Information Technology Services/Soil Testing Laboratory."
Soil sample drop-off time is 7 a.m. to 12 noon, Monday through Friday.

Note: Face masks are mandatory in Rutgers buildings.

Enter and remain in the foyer; the office and lab doors remain closed to the public. However, the side entrance and foyer can be seen from the inside main office of the Soil Testing Lab.
Get the attention of office staff through the window or call (848-932-9295) so that staff come to foyer to take sample(s) and paperwork immediately.
Do not leave any paperwork with credit card information or other payment unattended. If no-one is able to answer your call immediately, sample(s) with identifying information can be left in the foyer, and paperwork/payment will be attended to remotely.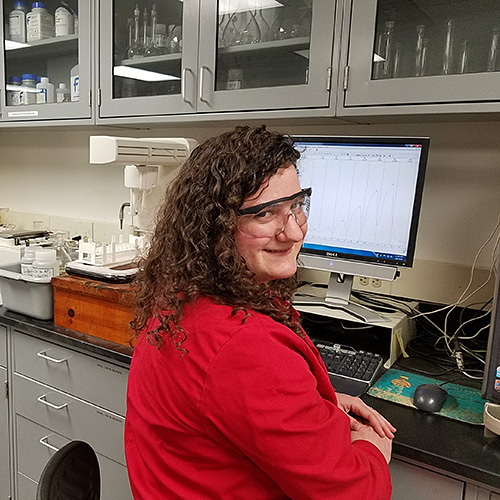 The Soil Testing Laboratory is a part of Rutgers New Jersey Agricultural Experiment Station (NJAES). Located on the G. H. Cook Campus, the Soil Testing Laboratory is a service unit that offers chemical and mechanical analyses of soils for the residents of New Jersey and for Rutgers University researchers. Our mission is to provide accurate and timely soil and water test reports to meet the unique agricultural and environmental needs of our state.
Benefits of Having Soil Tested
Soil testing is economically prudent. The appropriate application of nutrients and/or lime can save money. Don't buy nutrients that your soil doesn't need; instead, invest in those nutrients that will bring about healthy growth and yields.
To apply optimal levels of nutrients or lime to your soil, it is necessary to know the existing pH and the availability of essential plant nutrients in the soil. Having too much or too little of these nutrients or limestone can be harmful to plant growth. We can help you adjust these levels for best results.
Soil testing is an environmentally responsible practice. Applying fertilizer or other nutrient sources incorrectly can lead to nitrate or phosphorus contamination of our water resources. By applying fertilizer appropriately, you can ensure that you are "feeding" your plants in an environmentally friendly and "green" way.