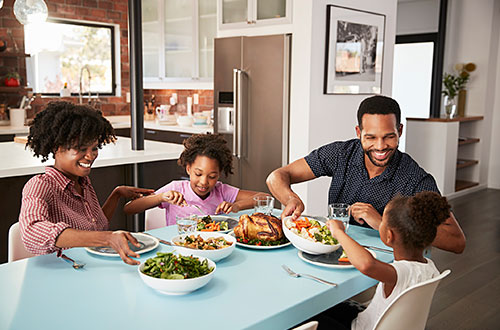 Healthy eating can help you feel your best, promote healthy growth in children and prevent chronic disease. FCHS has factsheets, newsletters, webinars, videos, workshops, and recipes to provide the information and tools you need for positive change.
Food and Nutrition
Eating for health is simple with these recommendations and the resources below.
Eat more whole grains; such as brown rice, whole wheat bread & pasta, quinoa, bulgur, farro
Eat beans, fish, poultry, or lean meats for protein
Choose low fat or fat free dairy products
Limit intake of sodium and salt
Eat reasonable portion sizes
Resources
Wellness Wednesdays with FCHS webinars – recordings and upcoming live events
Get Moving Get Healthy at Home E-Newsletter –A 12-week series emailed to you. Each newsletter has information related to food, nutrition and health; a recipe and links to resources.  Sample copy here.  Sign up here. [add links]
Live Well-Stay Healthy Texts: get a nudge towards wellness with text messages on Wednesday and Saturday each week.
NJAES Publications on food and nutrition
MyPlate.gov – meal plans for all ages, tip sheets, recipes and an app. Information in multiple languages.
DASH Eating Plan for reducing blood pressure & heart health from the National Institutes of Health
Cooking
Preparing a meal or snack is fun and easy with a little planning and some basic skills. Encourage others, including kids to help. When possible prep or cook extra to enjoy another day or for your freezer.