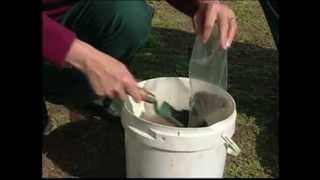 To have your soil tested by Rutgers Soil Testing Lab, there are two options:
You can buy a Soil Testing Kit from your Cooperative Extension county office (purchase includes fee for fertility analysis), or
You can download the appropriate forms below and then send the soil samples with testing fees. Choose the forms under the most suitable category.

The Sampling Instructions provide all details about taking the soil samples and submitting them to the laboratory.
A Soil Test Questionnaire needs to be filled out and sent in with each sample.
Lawn, Shrubs, Flowers, Trees, or Home Vegetable or Fruit Garden:
Greenhouse Growing Media or Compost:
Field, Commercial Vegetable and Fruit, or Nursery Crops:
Golf & Sport Turf:
Technical Testing: