Training
Extension professionals provide professional training, resources, and expert advice.
College Classroom Powerpoint Presentations
Exhibits and Displays
Tabletop exhibits with handouts available for loan. Contact your local FCHS professional in your Cooperative Extension county office for more information on how to borrow. Topics include: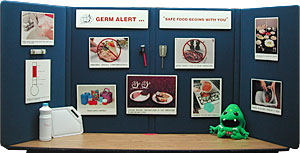 Germ Alert...Safe Food Begins with You! - Photographs showing safe food handling with English & Spanish captions (see below).
Which Fish Are Safe to Eat?
Some species of fish contain unsafe levels of contaminants. This exhibit helps pregnant women and high-risk individuals with compromised immune systems make safe choices when eating fish. Includes handouts.