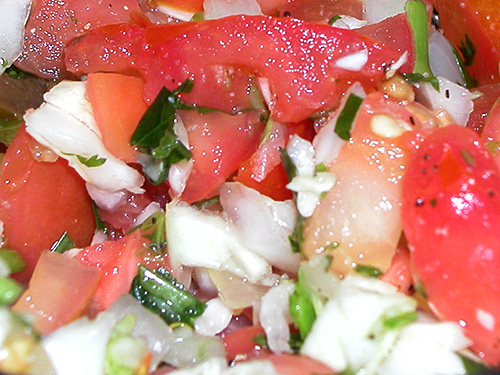 Obtain current, tested recipes and instructions, and follow them.
Consult the National Center for Home Food Preservation.
Use high quality, just-ripe tomatoes, peppers, onions and garlic. Do not use tomatoes that are over-ripe or from frost-killed vines.
Use the amount of tomatoes the recipe calls for. You can use or combine red, green or heirloom tomatoes or tomatillos as long as the amount remains the same.
Use the amount of peppers the recipe calls for. Mix-and-match peppers to vary heat, appearance and flavor. Handle peppers with gloves.
Use the amount and type of acid the recipe calls for. Vinegar or bottled lemon/lime juice ensures the safety of the product. Ignoring this practice could be life threatening.
Dried spices may be added or deleted as desired. These may include salt, ground pepper, dried chili pepper, coriander, cumin, and oregano.
Don't add more vegetables or fresh herbs than the recipe calls for.
Don't add thickeners.
Use the processing method for the length of time specified in the recipe. Salsa can be safely stored in the refrigerator for several weeks or frozen for months without processing.
It's not safe to can your own original salsa recipe. Refrigerate or freeze it instead.