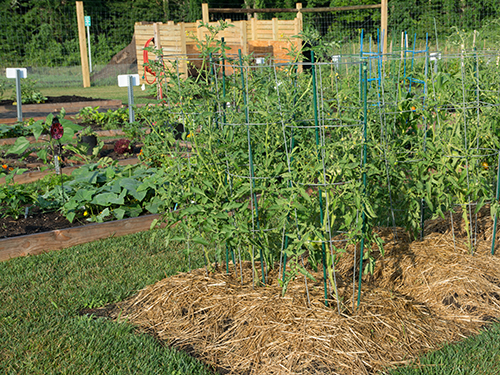 Cooperative Extension Fact Sheet FS1324
Madeline Flahive DiNardo, Agriculture and Natural Resources Agent, Union County
Megan Muehlbauer, Agriculture and Natural Resources Agent, Hunterdon County
Rebecca Magron, Horticulture Consultant and Research Associate, Hunterdon County
The public health emergency triggered by COVID-19 disease has made it necessary for community vegetable gardeners, garden clubs, civic groups, and volunteers who maintain public and private garden sites to implement practices to protect gardeners in an effort to curtail the spread of human diseases. COVID-19 is caused by a coronavirus called SARS-CoV-2. The prevention of foodborne illnesses from organisms such as pathogenic E. coli and Salmonella should also be taken under consideration.
Sponsoring and hosting organizations and gardeners should be made aware of and follow guidelines provided by the U.S. Center for Disease Control and Prevention (CDC), state, county, and local departments of health to protect gardeners, staff and the people they serve. Information contained in this document is for educational purposes and intended to help gardening organizations. Additional resources to aid in the discussion can be found at the end of this publication.
COVID-19 Overview
According to the CDC and the New Jersey Department of Health, COVID-19 is spread person-to-person. Being in close contact with someone who is infected increases the risk of contracting COVID-19. A person may be infected for several days before they start to experience the symptoms of COVID-19. Pre-symptomatic individuals are capable of spreading the virus. The virus becomes inactive slowly over time when it is outside its host. It can survive on surfaces for various lengths of time, depending on the surface.
CDC guidelines to reduce the spread of COVID-19 include frequent handwashing, maintaining a minimum distance of six feet, and wearing cloth face coverings. The CDC, U.S. Food and Drug Administration (FDA) and U.S. Department of Agriculture have not found evidence of COVID-19 being a foodborne disease or spread by food packaging. Research on the spread of COVID-19 continues to be conducted. The CDC recommends that people wash their hands for at least 20 seconds before handling food, as it has for many years.
Community Gardening Activities
Community gardening organizations should follow all local, state, and federal government regulations and guidelines which are intended to reduce the transmission of COVID-19 in communities. Following are possible steps for consideration to aid in these efforts.
Policy Communication
Organization leaders should communicate policies to help protect all gardeners and the people they serve. Consider using email, social media, on-line meetings, newsletters, and/or direct mail. Appropriate signage posted at the garden site may include illustrations and be written in multiple languages. Organizations may request that gardeners verify that they have received and understand the policies.
Review CDC guidance about scheduled cleaning and disinfection and be ready to communicate policies on how cleaning and disinfecting will be carried out. General COVID-19 information and resources can be found on our COVID-19 page.
It is important to communicate that gardeners must stay home if they are not feeling well or may have been exposed to COVID-19. While their efforts are valued, the priority is for the gardener to get better and protect other gardeners from possible exposure. Gardeners who exhibit symptoms of COVID-19 should be asked to leave the garden for their own health and the safety of others. Surfaces and tools that the ill gardener touched must be disinfected immediately.
Downloadable signage for "Social Distancing Advisory" and "Face Covering Required While on Premises" are available on the Rutgers On Farm Safety website.
Social (Physical) Distancing
Maintaining a minimum six-foot distance between people, will be an important aspect of working in the community garden or on a beautification project. The number of people who can be working in the garden at the same time should be restricted so social distancing can be maintained at all times.
It may be helpful to set a schedule so the number of volunteers present is limited with staggered arrivals and shifts. Scheduling will discourage having too many people in the garden at one time.
For large gardens, it may be helpful to assign gardeners to specific areas to ensure minimum spacing between individuals. Gardeners can be scheduled for shifts of a maximum number of people at a time according to CDC and state recommendations for gatherings of people.
Community gardens are often a place people enjoy visiting while gardeners are working, however, to maintain social distancing and protect gardeners from exposure to COVID-19, it is recommended that gardens be temporarily closed to visitors while gardeners are working.
Personal Protection for Gardeners
Cloth face coverings that cover the mouth and nose along with gloves should be worn by all gardeners while in the garden. Gloves and face coverings should be disposed of or washed after each use by the individual gardener. Washed gloves and face coverings may be dried at a high heat setting. Check the glove or face covering product care instructions.
Gardens should have at least one handwashing station on site. Gardeners should wash their hands just prior to entering the garden, and again when they leave. Hands should be washed before putting on gloves and after taking them off. Gardeners should wash their hands for at least 20 seconds with soap and water. Plain liquid soap is recommended by the CDC. The potable water may be hot or cold. Drying hands with single use paper towels will remove more germs. The used paper towels should be placed in a lined garbage can and disposed of on a daily basis. Keep the lid of the container closed.
Hand sanitizers may not be as effective on dirty hands. Therefore, hands should be washed prior to use. A hand sanitizer with 60% alcohol is recommended by the CDC. Hand sanitizers should be stored out of the reach of children and not above 105°F. Avoid getting hand sanitizers in the eyes. Use and store hand sanitizers according to the product label.
Gardeners should not eat while working in the garden. Personal water bottles should be cleaned at home by the gardener. If plastic water bottles are used, they should be disposed of in a lined recycling bin with a lid. Used plastic bottles should be removed from the garden on a daily basis.
Disinfecting Commonly Used Surfaces and Tools
Surfaces that are commonly touched by gardeners may include: gate locks, water faucet handles, garden hoses, doorknobs/handles to buildings, storage sheds, compost bins, tables, and chairs to name a few. Wear disposable gloves for general routine cleaning with soap and water. High use surfaces should be disinfected on a regular basis using a U.S. Environmental Protection Agency (EPA) recommended disinfectant. Surfaces with visible dirt should be cleaned with soap or detergent and water prior to applying a disinfectant. Follow product label directions and be sure it can be used on the surface you are applying it to and wear the appropriate protection. Proper ventilation is a must! If using a bleach solution to disinfect surfaces, refer to current CDC guidelines to ensure the concentration will be effective against COVID-19.
Remember, if a gardener exhibits symptoms of COVID-19 while in the garden, they should leave the garden and all tools and surfaces the ill gardener may have touched should be disinfected immediately.
Gardeners should be encouraged to bring their own tools and avoid sharing tools. If the community garden provides gardening equipment, the tools will need to be disinfected after each use with a disinfectant product according to the product label. Use EPA-recommended disinfecting wipes or sprays on the handles of tools before and after each use. If using disinfecting wipes, keep in mind some products require that the wiped surface  stays wet for several minutes, which may be challenging while working outdoors. Tools may also be soaked in a bleach solution using the current CDC recommended concentration of bleach. If the tools are used by many gardeners, consider organizing tools for use in certain areas of the garden by specific people. Color coding tools for specific uses may be helpful. Be sure the tools are well-marked and post signage to let the gardeners know how to clean and return the tools to the proper place.
Harvesting and Packing Vegetables
Implementing the following food safety practices can curtail the spread of foodborne diseases caused by organisms such as E. coli and Salmonella.
No eating in the garden or packing area.
When harvesting vegetables, place them in empty clean containers. There should not be any other items in the container.
If the vegetables are being sorted and packed for delivery to a food pantry, workers must wash their hands prior to handling the produce. They must wear a cloth face covering that covers their nose and mouth as well as disposable gloves.
The tables being used to pack the vegetables should be cleaned with soap/detergent and then disinfected with an appropriate product according to label directions. The label will provide information on how long the disinfectant product needs to stay on the surface and when the surface can be used. Do not mix cleaning products.
Vinyl or plastic table covers can be used on the properly cleaned and disinfected table surfaces. Used covers should be disposed of after each use. Fabric table clothes can also be used but should be washed and dried at a high heat setting after each use.
Acknowledgments
Rutgers On Farm Food Safety Website
Meredith Melendez, County Agent, Rutgers Cooperative Extension of Mercer County
Wesley Kline, County Agent, Rutgers Cooperative Extension of Cumberland County
Online Information Resources
References
Access to Green Thumb Community Gardens on NYC Parks Property.(2020, April 1). Green Thumb News.
Chalker-Scott, L. (2015). The Myth of Cloroxed Clippers

(PDF)

.
IFAS Extension University of Florida. (2020). Handling COVID-19 Guidance for Community Gardens. (FSHN20-19)
Melendez, M., Kline, W. (2017). GAP Training Manual.
Philadelphia Parks and Recreation. (2020). Notice for Community Gardeners

(PDF)

.
Purdue University Extension. (2020). Gardening: A Guide for Community Gardens During the COVID-19 Pandemic.
Traggis, H. (2020). Public Health Guidelines for Safe Community Gardening Best Practices for COVID-19 and Other Communicable Diseases.
US Center for Disease Control. (2020). COVID-19 Frequently Asked Questions.
US Center for Disease Control. (2020). Cleaning and Disinfecting Your Facility.
US Food and Drug Administration. (2020). Q&A for Consumers: Hand Sanitizers and COVID-19.
Photo credit: Three across (l-r): Peter Nitzsche (Randolph Community Garden, Randolph Community Garden, Open Gates Community Gardens)
October 2020
Copyright © 2023 Rutgers, The State University of New Jersey. All rights reserved.
For more information: njaes.rutgers.edu.
Cooperating Agencies: Rutgers, The State University of New Jersey, U.S. Department of Agriculture, and Boards of County Commissioners. Rutgers Cooperative Extension, a unit of the Rutgers New Jersey Agricultural Experiment Station, is an equal opportunity program provider and employer.