The Youth Farmstand Program is an interdisciplinary, multi-faceted program designed to support local farmers, increase workforce readiness skills and life skills in at-risk youth, and build healthier, stronger communities.
Thanks to everyone who supported us in the summer of 2017. See you next year!
Essex County
Montclair Community Farm Coalition Mobile Farm Stand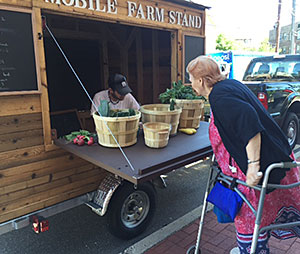 Thanks to the Professional Woodworkers Guild of Upper New Jersey, the Montclair Community Farm Coalition now has a mobile farm stand to take local produce from its farm sites to area seniors. The Montclair Community Farm Coalition consists of local organizations committed to engaging the community in farming, food, agricultural and nutrition education. These local community farms are hands-on resources to create a healthy food environment to support healthy food and lifestyle choices. The members of the Montclair Community Farm Coalition are HOMECorp, Montclair Health Department, Montclair Historical Society, Montclair State University, and Rutgers Cooperative Extension of Essex County 4-H and Master Gardeners.
Essex and Hudson Counties
4-H Urban Farms
The 4-H Youth Development Program for Essex and Hudson Counties recruits youth ages 11-17 interested in farming, gardening, culinary arts, and community service!
Can you be a youth farmer?
You must be between 11 and 17 years old
You must be available one-three 2-3 hour work shifts/week
MUST be prepared to do hard, physical work outside in all types of weather
We will give you all the training you need you just have to be ready and excited to learn!
For more information or to volunteer at one of the Urban Farm sites, please contact:
Essex County 4-H Youth Development
162 Washington Street
Newark NJ 07102
973-353-1337
Essex4h@njaes.rutgers.edu