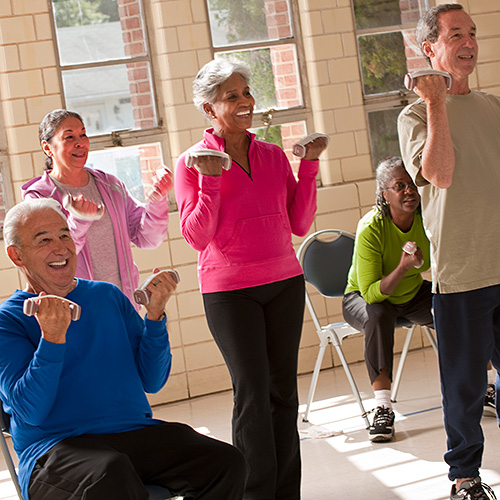 We know it's hard to make healthy food choices on a limited budget, and we know it's hard to stay active.
SNAP-Ed Can Help.
SNAP-Ed is a federally funded grant program that teaches about good nutrition, how to make food dollars stretch further, and how to make physical activity a part of your day.
The Department of Family and Community Health Sciences (FCHS), a part of Rutgers Cooperative Extension, is pleased to be one of three partners offering nutrition and physical education as part of New Jersey's SNAP-Ed program.
As a SNAP-Ed partner, we work with community-based agencies and schools in Burlington, Camden, Gloucester, and Mercer counties to provide education aimed at reducing hunger and preventing obesity.  We provide classes and programs that offer practical information on nutrition, cooking, food safety, and physical activity to address the needs of audiences at every stage of life.
For More Information or to Schedule a Program
For more information about SNAP-Ed programming, or to bring SNAP-Ed classes to your agency or school, please contact our Region 2 office at 856-224-8034, and a member of our SNAP-Ed team will be in touch shortly.
Live outside of Region 2?
Zufall Health runs the SNAP-Ed program in Hunterdon, Morris, Somerset, Sussex, and Warren counties. Contact: Jennifer Salt, Program Director at jsalt@zufallhealth.org or 973-891-3421.
Community Food Bank of New Jersey offers programs in Atlantic, Bergen, Cape May, Cumberland, Essex, Hudson, Middlesex, Monmouth, Ocean, Passaic, Salem, and Union counties. Contact: snaped@cfbnj.org or 908-355-3663 ext. 526.
We hope to see you at some of our community SNAP-Ed Classes and Events.  For more SNAP-Ed resources, visit njsnap-ed.gov.
SNAP-Ed is funded by the United States Department of Agriculture (USDA) Food and Nutrition Service through the New Jersey Department of Human Services in partnership with the New Jersey Department of Health.  The material was funded by USDA's Supplemental Nutrition Assistance Program (SNAP).