Consumers continue to be interested in the connection between the food they eat and the possible benefits foods may provide to their health. Over three quarters of Americans are either "very interested" or "somewhat interested" in learning more about the category of foods known as functional foods, and a similar amount admit to consuming, or having an interest in consuming, foods and/or beverages that may provide health benefits. (IFIC) The curriculum Functional Foods for Life (FFL) was developed to meet this consumer need by providing evidence based information on six specific functional foods that have research linking them to playing a role in the prevention of certain chronic diseases. Functional foods are defined as those that have the potential to benefit health when consumed as part of a varied diet. (AND, 2013)
The FFL curriculum is a compilation of six (6) individual lessons, with each lesson focusing on a different functional food. Each lesson has been peer-reviewed by an expert on each specific food. The following programming is available for nutrition educators to provide to adults of all ages:
Please select a lesson below. You will be prompted to enter some demographic information before proceeding to your download.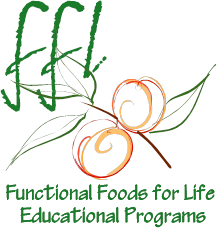 A functional food is defined as "one that has a potential benefit on health when consumed as part of a varied diet"(AND, 2013).
For programming developed for nutrition educators, please visit our home page.
Unavailable at this time – work in progress. Please check back.