Cooperative Extension Fact Sheet FS1350
Meredith Melendez, Agriculture and Natural Resources Agent, Mercer County
Thierry Besancon, Extension Specialist in Weed Science, Plant Biology
Redroot (Amaranthus retroflexus) and smooth pigweed (Amaranthus hybridus) are annual broadleaf weeds commonly found in field and vegetable crops in New Jersey. Both species are very similar and are difficult to separate from each other in the field, especially at the seedling stage. Seeds of all pigweed species are easily transported across farms when moving soil or agricultural equipment, such as mowers or combines. Awareness of the life cycle and biology of pigweed are key to figuring out the best options for control in your fields.
Plant Description and Growth Habit
Both smooth and redroot pigweed have hairy stems in contrast with other pigweed species (Powell amaranth, Palmer amaranth, or waterhemp). Smooth pigweed can be differentiated from redroot pigweed when in bloom primarily from its many branched flower heads, and branches that are thinner and longer than redroot. Mature pigweeds have a short taproot, can reach up to six feet tall, and produce small green flowers in clusters that form in leaf stem joints and branch ends.
Germination of seed takes place at soil temperatures between 86–104° F.
Seeds can survive in soil for about two years, depending on the depth of the soil in which they are buried.
Pigweeds emerge in late spring and summer, and will germinate with soil disturbance if the soil temperatures are warm.
Pigweed flowers begin to form in response to shortening day length.
Flowering will start mid-summer and continue through the first frost.
Spreads strictly by seeds.
Growth benefits from nitrogen and phosphorus fertilizers.
Pigweeds are killed by frost.
Zoom in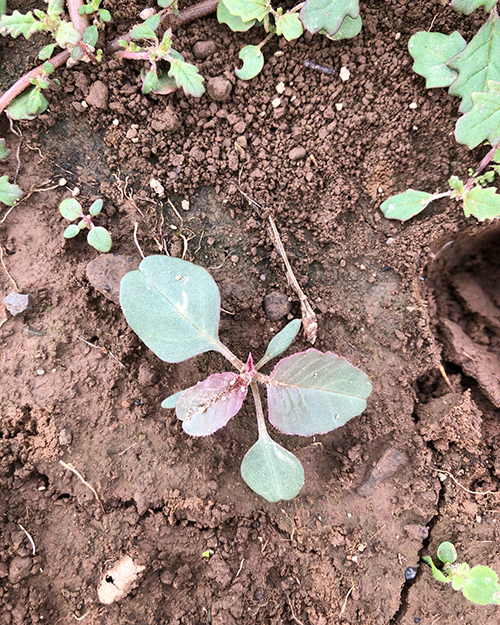 Fig. 1: Redroot pigweed seedling.
Zoom in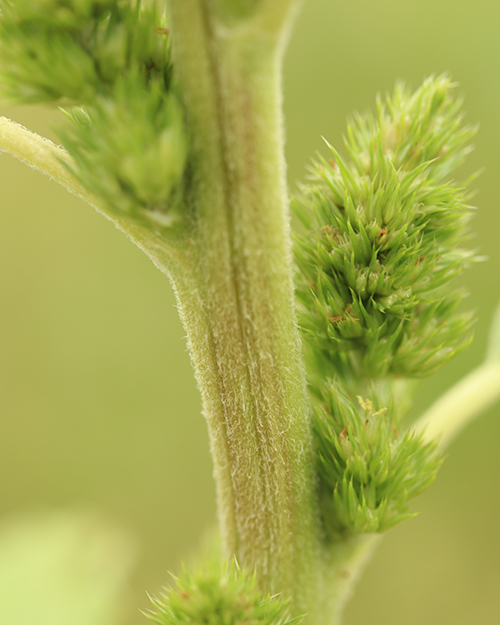 Fig. 2: Redroot pigweed axillary inflorescence.
Zoom in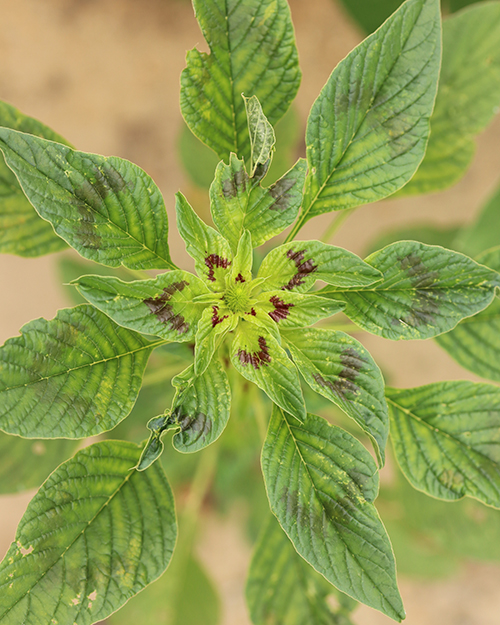 Fig. 3: Redroot pigweed leaves.
Zoom in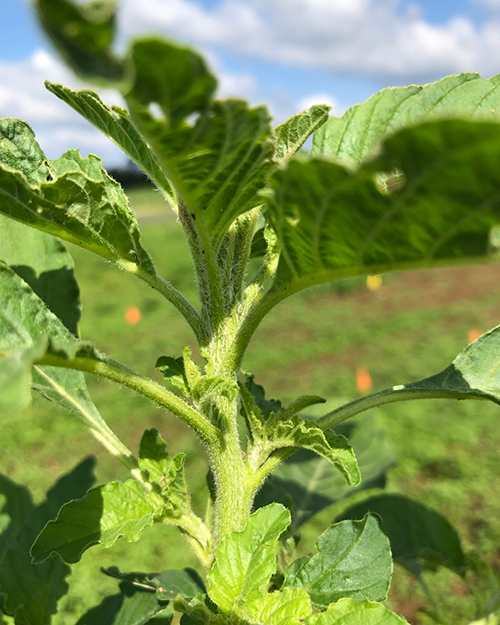 Fig. 4: Redroot pigweed plant.
Zoom in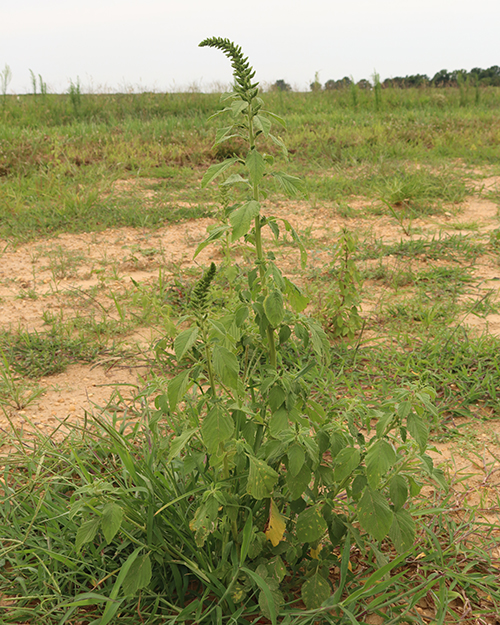 Fig. 5: Redroot pigweed pubescence.
Zoom in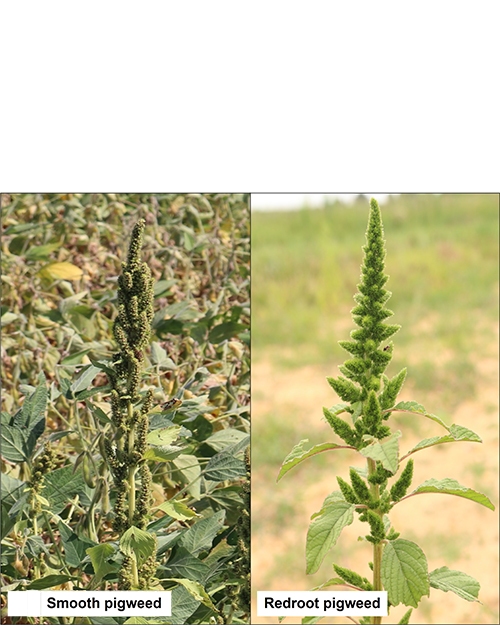 Fig. 6: Smooth vs redroot pigweed seedhead.
Management Strategies
Control of pigweed can be a multi-year process that involves several strategies for control. Organic and no-spray farming operations will need to rely on well-timed cultivation and strategic planting to compete with the weed infestation.
Cultivate in spring to encourage seed germination and repeat cultivation with tine weeder or rotary hoe to kill young pigweed seedlings before planting or seeding of a crop. The final cultivation should be very shallow (no more than 1.5" deep) to prevent pigweed seeds from being brought back to the surface.
Use stale seed bedding after the fields have been prepared for planting during the spring and summer. Allow time for weed seeds to germinate and then follow with light cultivation or a flame weeder to kill emerged weed seedlings prior to planting.
Use tarps to encourage germination over a two-to-three-week period before planting. Depending on the temperatures and timing, cultivation or flaming may be needed once the tarp is removed prior to planting.
Use hilling around tolerant crops to bury young pigweed seedlings, where appropriate.
Pull larger plants by hand before they start producing mature seeds.
Mow or weed-whack plants before they produce seeds.
Apply nitrogen and phosphorus fertilizers after cash crop is established to stimulate crop competitiveness.
Before using equipment in other areas or off the farm, properly clean to remove soil, dust, or vegetation residues that could be carrying pigweed seeds.
Cardboards as well as organic or plastic mulches are very effective at suppressing pigweeds.
Cover crops (cereal rye, oat) producing high biomass that are terminated and rolled before seeding the crop may create a physical barrier preventing pigweed emergence.
Pigweed Field Locations
Field
Size of Population
Suspected Introduction
Example: Field 4
Patchy throughout
Equipment borrowed
Farm Decision Tool
Pigweed management is a multi-year process. Identifying existing pigweed populations on the farm and reflecting on your activities and how they impact these populations are the first steps to developing a management plan. Use the charts below to identify your pigweed populations and your current management methods, and develop a plan of action to eradicate pigweed from your production areas.
| Field | Current Strategies | Timeframe |
| --- | --- | --- |
| Field 4 | Example: hand weeding | Late summer |
| | | |
| | | |
| | | |
| | | |
| | | |
| | | |
| Field | Potential Future Strategies | Timeframe |
| --- | --- | --- |
| Field 4 | Clean equipment between fields | Throughout 2022 |
| | | |
| | | |
| | | |
| | | |
| | | |
| | | |
| | | |
| | | |
References
September 2022
Copyright © 2022 Rutgers, The State University of New Jersey. All rights reserved.
For more information: njaes.rutgers.edu.
Cooperating Agencies: Rutgers, The State University of New Jersey, U.S. Department of Agriculture, and Boards of County Commissioners. Rutgers Cooperative Extension, a unit of the Rutgers New Jersey Agricultural Experiment Station, is an equal opportunity program provider and employer.