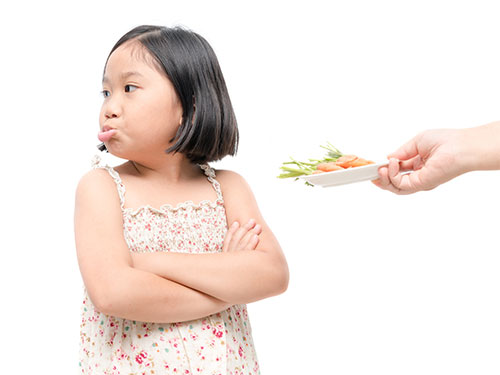 Cooperative Extension Fact Sheet FS1304
Sarah Curran, Family and Community Health Sciences Educator, Cooperative Extension of Warren County
Today's parents are busier than ever juggling the often competing demands of work and home, making fitting in family meals a real challenge. When they do find the time, many parents put a lot of pressure on themselves to provide that picture-perfect ideal meal for their families. And yet, even when they succeed in getting the most well-planned nutritious meal on the table, parents can feel defeated when their young children cross their arms, close their lips, and stubbornly refuse to eat it.
Feeding a family isn't always easy and picky eating can oftentimes feel as if it is getting in the way of your efforts to promote a positive experience at the dinner table. Picky eating, however, is a natural part of growing up, particularly pronounced during the toddler and preschool years. By age two, children's growth begins to slow, leading to a lessening of appetite. When you combine this with an increased need for independence, a general distrust for all things different, and a newfound ability to communicate likes and dislikes, you may have a recipe for disaster on your hands.
Because this is a natural stage that your children may go through, it can be tempting to give up, buckle up, and hope that you come out okay on the other end. However, research shows that feeding experiences as children largely influence eating attitudes and behaviors as adults, making early childhood a prime time to start helping your children develop a healthy relationship with food and willingness to try new things. The key is to take some of the stress off of what and how much your children eat, and focus a little more on how you feed them.
Of course providing your children with the nutrients they need to grow and develop into the active bodies that nature intended is important, but just as important is the feeding strategy or style that you employ as parents. Raising good eaters is about helping children develop positive eating attitudes and behaviors and not about getting them to eat certain foods in certain amounts. Ellyn Satter's Feeding Dynamics Model, which outlines the division of responsibility in the feeding/eating relationship, reassures parents that children do best when parents do their job of managing the food context (the when, where, and what) and trust children to do their job of deciding which foods to eat from those offered and how much. The following are some suggestions that may be helpful in pivoting your picky toddlers or preschoolers into more positive eaters.
Set the Table for Success
Children depend on parents and caregivers to set predictable routines. Try to establish regular meal and snack times, typically three meals and two snacks a day, and consistent locations for seated eating. Promote a closed kitchen policy (except for water), in between these scheduled meals and snacks so that your children will be hungry enough to happily try new foods, but not so famished that they will hurriedly overeat.
Sit down and eat as a family as much as possible. This might mean starting with just one to two sit down meals per week. For some families breakfast or lunch might be easier to fit in than dinner. No matter the meal, turn off the TV, put away the phone, and create a stress and judgment-free zone where you can reflect on your day and enjoy each other's company. Children should be encouraged to attend and participate in the family meal whether they choose to eat or not.
Parents and caregivers act as nutrition gatekeepers when it comes to the food that they bring into the home and serve on the table. They help to shape the forming food preferences of their young children. Offer a variety of nutritionally-balanced (go to choosemyplate.gov/health-and-nutrition-information) and developmentally-appropriate foods avoiding choking hazards that include small, round, and sticky foods.
Serve meals family-style from shared platters assisting children in portioning a small amount of foods to start, and allowing them to ask for more if still hungry. This feeding strategy shifts the control of eating to your children and allows them to independently listen and respond to their bodies' internal hunger and fullness cues.
Shy Away from Short Order Cooking
To keep the peace at the dinner table, parents often cater to the particular food preferences of their children at that moment. They may find themselves running back and forth from the dinner table to the refrigerator to make substitutions at the first sign of rejection or preparing separate meals for their children altogether. Avoid this short order cookery by making mealtimes and the introduction of new foods less intimidating.
Start by offering just one new food at a time to avoid overwhelming your little ones. When possible, pair an unfamiliar food with a familiar one. If your children have never tried peas but love pasta, try exposing them to this new food alongside that favorite food. Also, try to provide at least one food you know your children like at each meal. This takes some of the pressure off the children and relieves worry on the part of the parents that their children will leave the table with empty stomachs.
If your children do decide to eat only that favorite plain pasta at a meal, use snack time strategically to fill nutrition gaps. Make up for food group and nutrient losses by offering whole fruits and vegetables, dairy, whole grains, nuts and seeds instead of salty and sweet processed items.
Young children look to their parents to lead the way when it comes to learned behaviors and eating is one such behavior that children observe and imitate. If parents want their children to eat well-balanced meals and to be adventurous in trying new and nutritious foods, the key is to be role models in doing so themselves. If you eat it, it is likely that they will eventually eat it too.
Practice Patience, Persistence and Positivity
Part of the parents' job of managing the food context is learning to introduce foods in a neutral fashion and practice patience. When parents interfere and use one food, often in the form of sweets, as a bribe or reward for eating another food, often in the form of vegetables, it disrupts children's natural motivation to eat a nutritionally balanced diet. Children can become overly focused on hitting the magic number of bites that will please their parents.
Instead, leave emotions aside and be persistent in repeatedly exposing your children to new foods. According to the American Academy of Pediatrics, young children can need as many as ten exposures to a new food before they accept it. Parents may need to offer that same food creatively in different forms. For example, try changing the texture by using a different cooking method or pairing a new food with a dip or sauce.
It can be scary for parents to give up some of their control over mealtime and hand over the responsibility of eating to their children. It can seem especially difficult for the parent of children on the under or overweight-side to allow them to determine the amount of food that they eat. Encouraging the clean plate club can disrupt children's ability to tune in to their tummies' fullness cue. Conversely, being overly restrictive around or forbidding certain foods can lead to preoccupation and the potential for overeating when given the opportunity.
Trusting your children's ability to naturally up or down regulate from one meal to the next is key. Perhaps they had a big breakfast and aren't as hungry for lunch. Instead of looking at the big picture, many parents begin to fixate on one food, one meal, or one day of their children's eating as a measure of whether or not they are meeting their nutritional needs. It is important, however, to look at the overall pattern of intake over an entire week or several weeks in determining whether your children are really thriving. Tracking your children's growth curve, looking for major shifts up or down, can serve as evidence that they are getting enough.
Make Feeding and Eating Fun
Children are more likely to try new foods and eat foods in amounts appropriate for their normal growth if they are encouraged to take part in every step of meal preparation. Parents can promote child participation in meal planning, gardening, grocery shopping, and cooking. Focus more on nurturing the sensory enjoyment of these tasks and less on providing formal nutrition education to your children.
Children can be involved in planning meals for the week by helping their parents assign meals to each day and designate certain themes (i.e. Meatless Monday or Taco Tuesday) each week or month. Kids can help their parents search for new family-friendly recipes in magazines or online, clip coupons, and check the pantry, refrigerator, or freezer to see what foods they may already have on hand.
At the garden, farm, and grocery store, children can learn where their food comes from and the work that goes into producing it. They can assist parents with inspecting foods using their sight, smell, and touch. Children can count and weigh grocery items and check them off paper or electronic lists. They can help place foods in the cart, on the checkout counter, and in bags.
The kitchen can be a great place for children to bond with their parents, learn new skills, and have fun. Parents can set up and supervise small "jobs" such as rinsing vegetables, kneading dough, and topping homemade pizza for younger children and measuring flour, peeling potatoes, and slicing bananas for older ones. Kids can gain a sense of confidence and independence by taking on tasks like setting the table before a meal and clearing it afterwards.
Despite the feeding challenges inherent in this age group, early childhood is an ideal time to expose your little ones to healthy eating attitudes and behaviors that they can carry with them for a lifetime. Always consult with a physician if you are worried about your children's weight or height. Your pediatrician will likely refer you to a Registered Dietitian if there is a concern related to your children's diet.
References
Castle J, Jacobsen M. Fearless Feeding: How to Raise Healthy Eaters from High Chair to High School. San Francisco, CA: Jossey-Bass; 2013
Satter, E. Secrets of Feeding a Healthy Family How to Eat, How to Raise Good Eaters, How to Cook. 2nd ed. Madison, WI: Kelcy Press; 2008
choosemyplate.gov/health-and-nutrition-information is a website managed by the United States Department of Agriculture that provides up-to-date information for parents on growth, food group and physical activity needs, and food safety during the preschool years.
April 2019
Copyright © 2023 Rutgers, The State University of New Jersey. All rights reserved.
For more information: njaes.rutgers.edu.
Cooperating Agencies: Rutgers, The State University of New Jersey, U.S. Department of Agriculture, and Boards of County Commissioners. Rutgers Cooperative Extension, a unit of the Rutgers New Jersey Agricultural Experiment Station, is an equal opportunity program provider and employer.