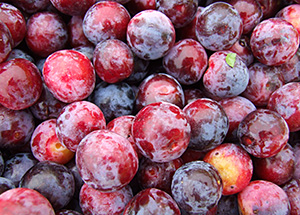 Cooperative Extension Fact Sheet FS1297
Jenny Carleo, Former Agriculture and Natural Resources Agent, Cape May County
Hemant Gohil, Agriculture and Natural Resources Agent, Gloucester County
Meredith Melendez, Agriculture and Natural Resources Agent, Mercer County
Ultra-Niche Crops are defined as exceptionally high-value crops that can provide a significant source of income to the farmer while using minimal land area.
The beach plum (Prunus maritima) is classified as a woody perennial shrub and produces small, tart, edible plums. The species is native to the coastal mid-Atlantic and Northeast region. Since 2005, growers and researchers have made important strides in developing beach plum into a crop suitable for commercial production. Due to its tolerance of sandy soils and saline conditions, beach plum is frequently used in dune stabilization efforts. The fruit is also cherished by residents and visitors to coastal areas such as the Jersey Shore and Cape Cod, MA where it has traditionally been made into small batches of jams and jellies. In recent years, beach plum products are becoming more popular with consumers interested in agritourism, which highlights local food including unusual fruits. The tart, fruity flavor lends itself to a wide variety of value-added products, including beach plum juice or pulp, gin, mixed cocktails, iced teas, jams, jellies, salad dressings, vinegar, and wine.
Marketing
Who will buy the crop?
Beach plums will be attractive primarily to customers wishing to make processed foods and drinks from them. Products made from beach plums are often purchased by visitors frequenting shore locations. Taste testing surveys have shown that market demand would extend beyond the coastal areas if supply were available.
How suitable is this crop for agritourism?
Although beach plums are not typically eaten fresh, some farms do sell fresh fruit directly to the consumer at farmers markets or Pick-Your-Own (PYO) operations. Most PYO customers plan to make their own jam or jelly and would be interested in larger quantities than PYO customers planning to eat the fresh fruits.
Can this crop be sold wholesale?
Yes, currently most of the fruit harvested is sold wholesale to processors such as chefs or craft beverage companies.
How well does this crop withstand shipping?
Beach plums are soft fruits with a texture similar to grapes or blueberries. Research on compatibility for long-distance shipping has not yet been conducted. While shipping short distances is feasible, typically the fruit should be eaten, processed, or frozen as soon after harvest as possible. 
Farmer's Tool Box
Essential Equipment/Supplies
Mechanical harvesting equipment (e.g. olive branch shaker and catching frame or tarps)
Sprayer for fungicides and insecticides
Herbicide sprayer or other equipment for in-row weed control
Pruners – loppers, hand shears, and pruning saws
Harvest containers (e.g. grape lugs)
Irrigation
Optional Equipment/Supplies
Tractor for larger plantings
Air blast or mist sprayer
Crop Requirements
Soil
Beach plums do not require sandy soil to grow, but fertile soil with a pH range of 6.5-7.0 is optimal. Because incorporating amendments into the soil will not be practical after planting, be sure to test the soil at least one year before planting and amend it accordingly.
Light
Production of the natural sugars in fruit are dependent on adequate sunlight during the growing season. As a crop plant, beach plums require full sun.
Is frost damage a common threat?
Yes, but unlike for most other orchard crops in New Jersey, poor pollination due to low temperatures in the spring is a more significant threat than frost. Beach plums typically bloom 2-3 weeks after peaches in New Jersey. The site chosen for beach plum production, however, must have good air drainage to prevent frost pockets.
Growing the Crop
What is the timeline for growing beach plums?
Nursery grown clonal material or grafting onto existing rootstock is recommended over seedlings. Seed used for propagating beach plums, however, should be stored in a cool, dry place until planted. Seeds should be double stratified (pre-chilled two separate times) to break the dormancy. Stratification is achieved when seeds are exposed to moist air at temperatures of 34-40 °F for 3 to 4 months. For spring planting, mix seeds with moistened peat moss or sphagnum moss. Alternatively, plant seeds in the ground, during early fall (Oct to Nov), to take advantage of natural ground cooling. Seedlings from germinated seeds are genetically different so only vigorous seedlings should be retained or transplanted. During early summer, tender seedlings spend most of their energy on root development followed by shoot growth. Seedlings may reach up to 10-12 inches after the first year's growth. In the second year, maintain strong seedling growth by proper fertilizer and irrigation application and pest management. Beach plums typically bloom in May and fruit can be harvested starting in late-August of the third year, typically continuing until October. If possible, it is ideal to remove the flowers during the first year so that all of the plant resources can be diverted to plant growth rather than fruiting.
Beach plums can also be propagated by grafting dormant buds or scion wood onto rootstocks in early spring. If you buy grafted trees, the plant has already completed its first year in the nursery and should be transplanted in the fall.
What is the optimal plant spacing?
Space between rows will depend on your equipment. Consider the plants' branch spread at maturity when planning the distance between rows. Within the row, plants should be about 10' apart. It is not recommended to plant more than 250 plants per acre until a fully compatible, dwarfing rootstock is commercially available.
What is the general care and maintenance of the crop during the dormant season?
Beach plum plants must be pruned each year. Beach plums are very vigorous and will quickly outgrow optimal field spacing if even a single annual pruning is missed. Dormant pruning is also important for air-flow, disease prevention, and even fruit-set. Pruning off 25 - 30% of the fruiting wood annually is recommended. Beach plums produce flowers and fruit on the previous season's growth. More information on pruning can be found in the Rutgers Cooperative Extension Fact Sheet 1180 Pruning Beach Plums for Fruit Production.
What is the general care and maintenance of the crop during the growing season?
Growers should follow their state's commercial spray guide recommendations for plums. Do not apply any materials in which plum is not listed as a crop on the label. Growers in Cape May County typically do not thin fruits after fruit-set.
Plant Nutrition
In the fall, apply potassium magnesium sulfate (0-0-22-11) to maintain the soil magnesium level (Mg) 25% higher than the potassium (K) level. In the spring, apply 40 lbs. per acre of nitrogen on sandy soils, less on heavier soils or land with extreme weed pressure. A foliar-applied soluble boron product can be applied during the growing season, particularly on sandy soils. At the ½" green-stage apply 1 lb./100 gallons, plus 1 quart of 9% EDTA-Zinc chelate. Along with the above recommendations, Dr. Warren Stiles, Professor Emeritus of Cornell University, also recommends foliar spray(s) of manganese sulfate in early summer where needed as indicated by foliar symptoms of manganese (Mn) deficiency or tissue testing.
Water
In Cape May County growers irrigate during establishment or in severe drought years, especially in sandy soils. Beach plums typically require 1-1.5 inches of water each week. When providing supplemental irrigation, however, be mindful that excess moisture during fruit development can cause skin splitting, much like that in cherries.
How is harvesting performed?
To watch a video of harvesting beach plums, please go to the Ultra-Niche Crops website. Harvest can be done by hand, but it is not recommended due to high labor costs, unless done as PYO by the customer. Plums can also be shaken or knocked off the plant and dropped onto a tarp or collection material as demonstrated in the video.
Considerations for Organic Production
Can beach plums be grown organically?
Organic production of beach plums is not recommended in the humid climate of the mid-Atlantic region. Since beach plums are a native plant, they are well-suited to the local climate, but so are their pests. Frequent pest problems in growing beach plums include: plum curculio (Conotrachelus nenuphar); brown rot (Monilinia fructicola) and oriental fruit moth (Grapholita molesta). Information on pests of beach plum is still emerging. If these pests can be managed through organic practices in the region, then organic production of beach plums may be feasible. Different plants and varieties have different susceptibilities to brown rot, therefore, choosing plants or varieties with disease tolerance is optimal if available.
Critical Considerations
Plant Variability: Since there is a limited supply of grafted beach plums available, most of the plants will be highly variable seedlings. For this reason, achieving timely spray coverage can be challenging due to the broad range of plant stages that occur in the field, especially if seedlings are being grown. It is important to note, however, that beach plums are not self-fertile and must be cross-pollinated by bees or native flies in order to produce fruit. Therefore, it is important to remember that one beach plum plant, or one single, clonal variety will not produce fruit. Growers must plant a minimum of two clonal varieties to achieve cross-pollination. Pollen compatibility and pollinizer efficiency of individual clones or varieties is unknown, so growers need to include ample variety in their plantings to increase their odds of having adequate pollination.
Crop Development: Since beach plums are only partially domesticated, substantial research is still needed to know more about optimal cultural practices and the biology of the plant itself. When considering whether to grow beach plums commercially, please keep in mind that the crop is still under development and that new information becomes available each year. There are also a limited number of chemical controls labeled specifically for beach plum.
Inconsistent or Alternate Bearing: Fruit yields of beach plum vary widely from year-to-year. Similar to apples, some beach plums may exhibit the phenomenon known as alternate bearing which is a natural tendency to produce excess fruit-loads in some years and greatly reduced fruit-loads in the following year. Management tactics for overcoming this phenomenon have yet to be successful but the issue may be mitigated to some degree with soil fertility management and appropriate pruning techniques mentioned above.
Safe handling practices: Producing quality beach plums includes taking steps to reduce the risk of human pathogen contamination during production and handling. This includes: worker health and hygiene training, the use of clean high-quality postharvest water (if used), not selling plums that come in direct contact with the ground or have had contact with fecal material, and proper cleaning and sanitation of product contact surfaces. More information on these and other Good Agricultural Practices can be found at the Rutgers Farm Food Safety Webpage (onfarmfoodsafety.rutgers.edu).
Conclusion
Beach plums are a recently cultivated, native fruit that is still being researched, and production considerations are still under investigation. Marketing strategies should appeal to the customers interested in unique fruit products; or capitalizing on agritourism and the rich history of beach plum for coastal residents and visitors. In non-coastal regions marketing can focus on the fact that beach plums are a native fruit as well as the nutritional qualities, such as high anti-oxidant levels similar to blueberries, and anti-bacterial adhesion activity similar to that of cranberries. Although beach plums are a newer crop, proper care and maintenance of the plant can lead to long-term economic benefits when cultivated in combination with other farm products.
Sources and Additional Information
Carleo, J. and W. C. Stiles. (2012) Pruning Beach Plums for Fruit Production, Rutgers Cooperative Extension Fact Sheet FS1180 njaes.rutgers.edu/pubs/publication.asp?pid=FS1180
Plant Fact Sheet: Beach Plum. (2002). USDA NRCS Plant Materials Program plants.usda.gov/factsheet/pdf/fs_prma2.pdf
Childers, N., Morris, J., Sibbett, G. S. (1995). Modern Fruit Science: Orchard and Small Fruit Culture. Horticultural Publications, Gainesville, FL.
Ward, D. et al. (2017) New Jersey Commercial Tree Fruit Production Guide, Rutgers Cooperative Extension E002 njaes.rutgers.edu/pubs/publication.asp?pid=e002
Uva, R. H. and T. H. Whitlow. Production and Marketing of Beach Plum, a Heritage Fruit Crop.
Acknowledgements
Thank you to David VanVorst and Dr. Warren Stiles for contributions to this document and to the Cape May County Beach Plum Association for sharing commercial production recommendations and marketing recommendations.
Mention or display of a trademark, proprietary product, or firm in text or figures does not constitute an endorsement by Rutgers Cooperative Extension and does not imply approval to the exclusion of other suitable products or firms.
October 2018
Copyright © 2020 Rutgers, The State University of New Jersey. All rights reserved.
For more information: njaes.rutgers.edu.
Cooperating Agencies: Rutgers, The State University of New Jersey, U.S. Department of Agriculture, and County Boards of Chosen Freeholders. Rutgers Cooperative Extension, a unit of the Rutgers New Jersey Agricultural Experiment Station, is an equal opportunity program provider and employer.