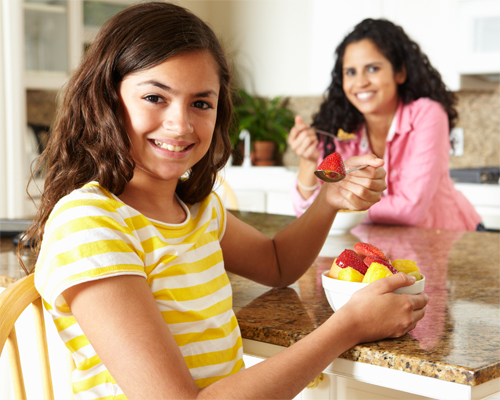 Cooperative Extension Fact Sheet FS1274
Rebecca Huber, FCHS Volunteer, Marywood University
Luanne J. Hughes, MS, RDN, Family and Community Health Sciences Educator, Gloucester County
As many know, breakfast is the most important meal of the day. To start your day off on the right foot, it is important to choose healthy options and avoid foods that provide empty calories and little nutritional value. Eating a balanced breakfast that includes most food groups (fruits, vegetables, protein, grains, and dairy)—while avoiding unhealthy options high in fat, sugar, and sodium—is ideal. This can help you experience the many benefits of eating a healthy breakfast.
Why is Breakfast Important?
For some people, the time between dinner and breakfast may be lengthy, so it is important to eat a wholesome meal every morning to get your body going. Those who eat a healthy breakfast tend to benefit both cognitively and physically. Studies show that eating a healthy breakfast leads to an overall diet that is more nutrient-rich and higher in vitamins and minerals. Eating breakfast also improves concentration and performance and improves mood by preventing fatigue and irritability, both of which help you have a more productive day at work or school.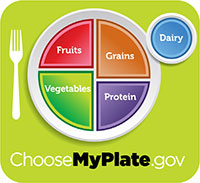 Eating breakfast is important for everyone. Remember to choose foods that work for you and your lifestyle. Even a hectic, busy schedule can include breakfast. If there is enough time, a sit-down meal of whole grain pancakes with fruit or scrambled eggs with chopped spinach, avocado, and part-skim mozzarella cheese is a healthy start. No time? A grab-and-go breakfast can be healthy too. Try a piece of whole grain toast with peanut/sunflower butter, a cup of yogurt and fruit, or a green smoothie.
When it comes to breakfast, its okay to think outside of the box. Don't like traditional breakfast foods? Have lunch or dinner for breakfast. Leftovers from the day before are a good choice; re-heat as is, or take leftover ingredients and create something new and delicious. As a guide, use the USDA's MyPlate (www.choosemyplate.gov) to build a better breakfast. It can help you create a balanced breakfast that will give you sustained energy to get through the day.
Protein
When planning out a balanced breakfast, start with protein. Protein helps give you a great start to the day and will keep you feeling full until lunch time. Stick to lean or low-fat sources of protein such as yogurt, cottage cheese, or eggs. If you enjoy breakfast meats like ham or Canadian bacon, they tend to be high in sodium, so choose lower sodium options. For an on-the-go breakfast, try our Microwave Coffee Cup Scramble recipe. Mix eggs, cheese, and spinach; microwave in a mug; and enjoy! There is less mess and it's ready to eat in no time. Another good on-the-go choice is a fruit and veggie smoothie with tofu, yogurt, or milk, to add extra nutrients. If you can manage a sit-down meal, try a tofu scramble with various vegetables or add nut butter to your oatmeal to give it extra flavor and protein.
Dairy
Dairy is easy to include in your breakfast and is a good source of calcium and vitamin D. Many dairy foods are also good sources of protein. Milk, cheese, and yogurt are typically the most common choices. Try plain yogurt or cottage cheese with sliced fruit, or cheese with whole grain crackers and carrot sticks as an easy on-the-go option. Unsweetened almond, unsweetened soy and even lactose-free milks are alternatives to traditional dairy foods, but they have different nutritional profiles. Compared to dairy milk, almond and soy milks are lower in calories and calcium. Almond milk is also lower in protein. Look for unsweetened soy and almond milks that are enriched with protein and calcium. The protein and calcium profiles of lactose-free milks are similar to their regular milk counterparts. When choosing dairy foods, select fat-free or low-fat options. You can also change the flavor of your favorite smoothie by swapping out dairy milk with almond or soy milk.
Grains
Grains are also an essential part of a balanced breakfast. They can be good sources of fiber, which can help increase satiety to keep you feeling full. You also get complex carbohydrates from eating grains, which are the brain's main source of energy. Carbohydrates are essential to get the body going after a long night's sleep. To maintain energy levels through the day, focus on eating mainly whole grains. Grains that are more refined and processed may not give you sustained energy and do not have as many vitamins and minerals. Examples of refined grains are white bread or cereal made with white flour and those that are sugar-sweetened. Eat more whole grains like oats, millet, or cereals such as Raisin Bran™, Kashi™, or shredded wheat. Other good options are whole wheat bread with nut butter, or try our overnight oats recipe with banana and cinnamon. Leftovers like stir-fry with brown rice or whole grain pasta with veggies and sauce can be good, too, for those who do not prefer traditional breakfast foods.
Fruit
Fruits are important to add to your meal because they are packed with fiber, vitamins, minerals, and antioxidants. Adding fruit to your breakfast is easy. Try fresh, frozen, canned, or dried. If using canned, choose fruit packed in fruit juice or water instead of light or heavy syrup. If you choose fruit in syrup, rinse it off with water to reduce the sugar. Frozen fruit with yogurt or milk can easily be made into a smoothie, for a quick, on-the-go breakfast. Fresh fruits can be added to just about anything. Add berries to your hot or cold cereal or include a banana, apple, or orange on the side. Dried fruit is another good option, although it is higher in calories than its fresh fruit form. It can be added with nuts to oatmeal or any hot or cold cereal.
Vegetables
Adding vegetables to your breakfast may require creativity. Vegetables are just as important as every other food group. Like fruits, they contain important vitamins, minerals, antioxidants, and fiber. Include them in your breakfast by adding fresh or frozen vegetables to an omelet or scrambled eggs, such as peppers, broccoli, avocado, or spinach. You can also add grated carrots or zucchini to pancakes, muffins, or bread to add extra nutrients. Frittatas or quiches provide a great base for vegetables like spinach, tomatoes, or broccoli rabe. Try making mini-quiche in muffin pans, freezing them, and reheating when needed for a quick, on-the-go breakfast. Also, add vegetables to your breakfast smoothie, such as spinach, kale, or avocado for smoothness, fiber, and antioxidants.
For More Information
The Rutgers Cooperative Extension Department of Family and Community Health Sciences (FCHS) works with families, schools, and communities to promote healthy eating and active lifestyles. Visit njaes.rutgers.edu/fchs for information on all of our programs and learn how to bring them to your school, worksite, or community organization.
Check out these other valuable sites:
Grow Healthy: FCHS School Wellness Initiative: growhealthy.rutgers.edu
Get Moving-Get Healthy New Jersey: getmovinggethealthynj.rutgers.edu
Recipes
Zucchini Fritter
Recipe from damndelicious.net/2014/04/02/zucchini-fritters.
Ingredients:
1½ pounds zucchini, grated
1 teaspoon salt
¼ cup all-purpose flour
¼ cup grated Parmesan
2 cloves garlic, minced
1 large egg, beaten
Kosher salt and freshly ground black pepper, to taste
2 tablespoons olive oil
Directions:
Place grated zucchini in a colander over the sink. Add salt and gently toss to combine; let sit for 10 minutes. Using a clean dish towel or cheese cloth, drain zucchini completely.
In a large bowl, combine zucchini, flour, Parmesan, garlic and egg; season with salt and pepper, to taste.
Heat olive oil in a large skillet over medium high heat. Scoop tablespoons of batter for each fritter, flattening with a spatula, and cook until the underside is nicely golden brown, about 2 minutes. Flip and cook on the other side, about 1–2 minutes longer.
Serve immediately.
Microwave Coffee Cup Scramble
Recipe from www.incredibleegg.org/recipe/microwave-coffee-cup-scramble.
Ingredients:
2 eggs
2 teaspoons milk
2 tablespoons shredded Cheddar cheese
Salt and pepper, as desired
2 or 3 spinach leaves
Directions:
Coat 12-oz. microwave-safe coffee mug with cooking spray. Add eggs, milk, and spinach; Beat until blended.
Microwave on high 45 seconds; stir. Microwave until eggs are almost set, 30–45 seconds longer.
Top with cheese; season with salt and pepper.
Optional: Top with sliced avocado.
Allow to stand for 1 minute, then check for doneness. To ensure food safety, the eggs should be firm, not runny. If eggs are runny, then microwave for 15–30 seconds longer and check again.
Overnight Oats in a Jar
Recipe from hurrythefoodup.com/how-to-make-overnight-oats-in-a-jar.
Ingredients:
One clean jar with lid
½ cup rolled oats
2 teaspoons chia seeds (optional)
1 cup milk
1 tablespoon nuts and/or seeds
1 teaspoon cinnamon
1–2 teaspoon favorite sweetener, if desired
Optional: slices of fruit; fresh or frozen berries
Directions:
Place everything in a jar, screw the lid on top, shake, and off it goes into the fridge. The next morning, add a dash of milk and sweetener (if desired) and enjoy!
Mention or display of a trademark, proprietary product, or firm in text or figures does not constitute an endorsement by Rutgers Cooperative Extension and does not imply approval to the exclusion of other suitable products or firms.
June 2017
Copyright © 2023 Rutgers, The State University of New Jersey. All rights reserved.
For more information: njaes.rutgers.edu.
Cooperating Agencies: Rutgers, The State University of New Jersey, U.S. Department of Agriculture, and Boards of County Commissioners. Rutgers Cooperative Extension, a unit of the Rutgers New Jersey Agricultural Experiment Station, is an equal opportunity program provider and employer.