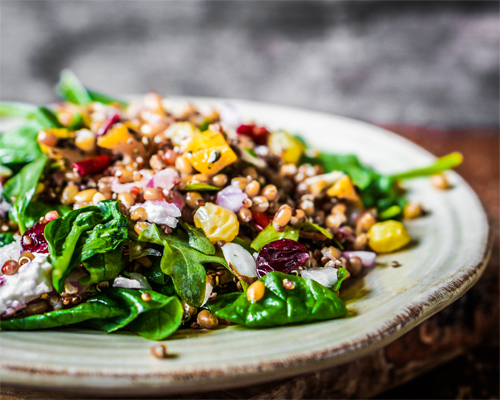 Cooperative Extension Fact Sheet FS1257
Raquel Duran, University of Delaware Dietetics Intern
Luanne J. Hughes, MS, RDN, Family and Community Health Sciences Educator, Gloucester County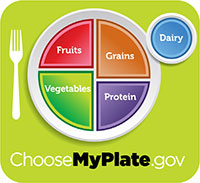 Salads can be a delicious and healthy way to enjoy the amazing benefits of plant foods. According to researchers, consuming a variety of plant-based foods can provide many health benefits, including potentially reducing risk for developing chronic diseases such as cancer, heart disease and diabetes.
With the right ingredients, salads can offer a variety of vitamins, minerals, protein, fiber and antioxidants to promote health. However, not all salads are created equal. To build a better salad, use the USDA's MyPlate as a guide. Selecting more ingredients from the five major foods groups (vegetables, fruits, protein, grains and dairy) and reducing added ingredients like high-fat, high-sodium dressings will ensure that your salad is full of the nutritious foods that contribute to optimal health.
Foundations
Iceberg lettuce is a popular base for many salads—but for maximum health benefits, think beyond this bland lettuce, which provides few nutrients. Instead, create a salad with a base of dark, leafy greens like romaine, spinach or kale. The darker the greens, the more nutritious the salad. Darker greens are packed with an array of vitamins and minerals. They are also rich in iron. To make your salad interesting, try different combinations of lettuce and greens such as spinach, kale, endive, Swiss chard, arugula, or even colorful cabbage.
Vegetables
There is an abundance of different salad-friendly vegetables that can be added to provide variety. For crunch, choose chopped carrots, corn or broccoli. For wonderful flavor, add mushrooms, onions, beets, avacado and green peppers. Get creative by combining an assortment of shapes, sizes and colors. Try different colors of favorite vegetables. Add a burst of color with white, yellow, red or purple carrots; try purple, green or yellow tomatoes. Think about form, too. Don't stop with raw vegetables. Kick your salad up a notch with grilled veggies, and don't hesitate to use frozen or canned vegetables as a convenient way to add variety. Canned or frozen artichokes, baby corn, bamboo shoots and mushrooms add flavor and variety with minimal preparation.
Fruit
Just like vegetables, fruits are also rich in vitamins and minerals. Fresh, frozen, canned or dried…adding fruit is an easy way to build salads with unique flavors. Apples, berries, melons, pineapples, and mandarin oranges are a few to try. Dried fruits like raisins and cranberries are also good choices.
Nuts and Seeds
Sprinkle on a nutritious "punch" to your salad by adding nuts and seeds. These heart-healthy gems are loaded with antioxidants and add crunch and texture to salads. Nuts and seeds are also rich in protein and unsaturated fats, which help to keep you fuller longer. Try sliced or chopped almonds, pistachios, cashews and walnuts, or unsalted pumpkin, sunflower or sesame seeds.
Grains
Whole grains can turn a light salad into a hearty meal. A great source of fiber, whole grains like barley, couscous, quinoa and brown rice are energy-packed additions that will help keep you feeling fuller longer.
Protein
Protein helps sustain the body and make it stronger, build muscle and nourish skin, hair and nails. Turn your salad into a satisfying meal with lean sources of protein like chicken, fish (tuna, salmon or grouper) or eggs. Or opt for plant-based options like tofu, black beans, chickpeas, edamame or kidney beans.
Dairy
Cheese makes flavorful toppings for salads, but it can be high in calories and fat. Add calcium and vitamin D to your salad by sprinkling 1-2 tablespoons of feta, parmesan, mozzarella or cheddar cheese for flavor and nutrition without excessive calories.
Salad Dressings
Burying a salad under dressing that is high-calorie and highfat can turn a fresh and light salad into an unhealthy disaster. Opt for a splash of olive oil and a flavored vinegar, or lighter versions of your favorite dressings. Create your own dressing with Greek yogurt blended with fresh herbs and spices. Regardless of the choice, don't over-dress; a light sprinkle of dressing is best.
For More Information
Family and Community Health Sciences (FCHS) works with families, schools and communities to promote healthy eating and active lifestyles.
Visit njaes.rutgers.edu/fchs for information on all of our programs, and learn how to bring them to your school, worksite or community organization.
Check out these other valuable sites, too:
Recipes
Fresh Cherry and Corn Salad
Recipe Courtesy of American Institute for Cancer Research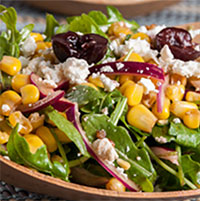 Dressing Ingredients
1/2 medium shallot, finely chopped
3 cloves garlic, minced
1/4 cup extra virgin olive oil
1/4 cup balsamic vinegar
Salt and freshly ground black or white
pepper to taste
Salad Ingredients
5 ounces baby arugula or baby spinach
4 ears cooked fresh corn, kernels sliced off cob
1/2 cup finely sliced red onion
3/4 cup feta cheese
1 lb. fresh dark cherries, pitted, sliced in half
Directions
In small mixing bowl, combine all dressing ingredients. Whisk well.
In large salad bowl combine arugula, corn and onion. Drizzle with dressing and toss to coat.
Arrange salad on individual dishes and sprinkle with feta. Top with cherries and serve.
Brussels Sprout Slaw with Cranberries and Walnuts
Recipe Courtesy of American Institute for Cancer Research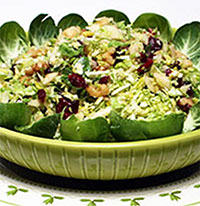 Ingredients
3/4 lb. Brussels sprouts
1 Fuji or Gala apple, peeled, cored and finely chopped
2/3 cup dried cranberries
1/2 cup chopped walnuts
1/2 tsp. kosher salt
1/8 tsp. freshly ground pepper
1/3 cup fresh Meyer lemon juice (see Notes)
1 Tbsp. extra virgin olive oil
Directions
Trim bottom from sprouts and remove any loose or bruised leaves. Place shredding disk or fine slicing disk in food processor, and using feeder tube, gradually shred Brussels sprouts; there will be about 4 1/2 cups (see Notes). Transfer shredded sprouts to mixing bowl. Add apple, cranberries, walnuts, salt, pepper and lemon juice and stir with a fork for 1 minute to combine well. Add oil and stir well. Cover and refrigerate slaw for 3 hours to overnight. Re-stir before serving. This slaw is best served within 24 hours.
Notes:
If Meyer lemons are not available, use 1/4 cup regular fresh lemon juice.
If your food processor does not have a shredding dish, quarter Brussels sprouts vertically and place in food processor fitted with a chopping blade. Pulse until sprouts are finely chopped, stopping several times to scrape down bowl. Take care not to leave big chunks or to turn sprouts into mush.
August 2016
Copyright © 2023 Rutgers, The State University of New Jersey. All rights reserved.
For more information: njaes.rutgers.edu.
Cooperating Agencies: Rutgers, The State University of New Jersey, U.S. Department of Agriculture, and Boards of County Commissioners. Rutgers Cooperative Extension, a unit of the Rutgers New Jersey Agricultural Experiment Station, is an equal opportunity program provider and employer.