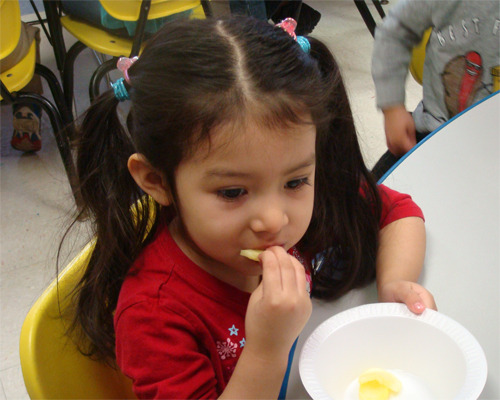 Cooperative Extension Fact Sheet FS1227
Corey Wu-Jung, MS, RD, FCHS Program Coordinator, Grow Healthy Team Nutrition
Sherri Cirignano, MS, RD, LDN, Department of Family and Community Health Sciences
Luanne J. Hughes, MS, RDN, Family and Community Health Sciences Educator, Gloucester County
The Healthy, Hunger-Free Kids Act (HHFKA) of 2010 sets nutrition standards for schools, requiring school nutrition professionals to serve a greater variety of fruits and vegetables—and more of them. It also provides resources to establish local farm-to-school networks and school gardens, set minimal standards for school wellness policies, including nutrition education, and outline methods to create a healthier school wellness environment. Overall the HHFKA strives to provide children with healthier and more nutritious food options, educate children about making healthy food choices, and teach children healthy habits that will last a lifetime.
School cafeterias are ideal settings to promote healthy food choices for students and the entire school community. A taste-testing in the school cafeteria is a fun activity to introduce students to nutrient packed foods. Positive feedback from classmates and teachers can encourage reluctant students to try new foods. One bite can lead to a healthy eating habit for a lifetime. A tasting can consist of single food items such as vegetables and fruits, or a new recipe under consideration for the school breakfast or lunch menu. (See box for Suggested Foods for Tastings.)
Getting Started
Consult with your school nurse to determine foods to avoid based on student allergies and intolerances.
Choose foods that fall into the HHFKA recommendation of groups to increase—vegetables and fruits, whole grains, and low fat or fat free dairy.
Consider a new recipe or vegetable/fruit to add to your menu or an existing item that you would like to highlight. A tasting can uncover why an item is undersold. Has it gone unnoticed or perhaps students just don't like it?
Focus on local, seasonal foods. Invite a local farmer to participate or sample a vegetable grown in the school's garden.
Keep costs down. Try a recipe utilizing USDA foods. Check out the USDA Foods Toolkit for resources using USDA foods.
Pick two or three items you are considering for a tastetest. Poll some of your school's students, administrators, teachers, school nurse and parents. Ask them which they would like to sample. The school community will take a greater interest if they are part of the planning.
Looking for some new, healthy menu ideas? Check out the Recipes for Healthy Kids Cookbook on the USDA Team Nutrition website. This cookbook is packed with "delicious, kidapproved recipes" in standardized form for use in schools.
Choose where you would like to set up the taste-test: on the service line, at a special table at the entrance or in the cafeteria, or on a mobile cart brought to the students' tables. Consider your staffing and logistical needs to determine which set-up works best for you.
Don't forget to determine how to collect student feedback. Use a simple survey or provide tokens or paper "ballots" to taste-testers. Have them place it in a "Yes, I like it" box or a "No, I don't like it yet" box. Involve some older students with the tabulations and share the results with the entire school community. Based on the results, what are your plans? Will you offer the item as a menu component, on the salad bar, as an à la carte item? Be sure you share your decision with the school community and thank them for their participation. Students enjoy knowing that their input matters. Finally, post the results on the school website so parents and caregivers are aware, and share the recipe and/or preparation method on the next month's menu and on the school's website, so families can try it at home.
Suggested Foods for Tastings
Apples, different varieties
Kiwi
Baby spinach
Lentils
Barley
Pasta, whole wheat
Bell peppers, various colors
Peaches
Berries
Pears, different varieties
Brown rice
Quinoa
Butternut squash
Snap peas
Cantaloupe
Spaghetti squash
Cheese, low fat
Summer squash
Cucumbers
Sweet corn
Edamame
Sweet potatoes
Faro
Swiss chard
Garbanzo beans
Tomatoes, different varieties
Kale
Yogurt, fat free or low fat
Safety First
Food allergies can affect people of all ages and are a very serious issue. Before selecting a tasting item, check with the school nurse to identify foods to avoid due to student allergies or food sensitivities. Clearly label food ingredients if samples are not single foods. (e.g., roasted butternut squash with olive oil and cinnamon.)
Practice safe food handling. Follow your district's food handling policies. Be sure students and volunteers wash their hands properly before handling any food. To ensure clean hands, follow hand washing guidelines from the Centers for Disease Control and Prevention.
Wet your hands with clean, running water (warm or cold) and apply soap.
Rub your hands together to make a lather and scrub them well; be sure to scrub the backs of your hands, between your fingers, and under your nails.
Continue rubbing your hands for at least 20 seconds. Need a timer? Hum the "Happy Birthday" song from beginning to end twice.
Rinse your hands well under running water.
Dry your hands using a clean towel or air dry them.
Check out the U.S. Department of Agriculture, Food and Nutrition Service's Food Safety webpage for additional resources especially for professionals working in Child Nutrition Programs.
Spreading the Word
Once you have determined the food you would like to taste test, promotion is key. Notify parents via your school's newsletter, monthly menu, and/or website. Some schools require permission slips to allow students to participate in a tasting. Be sure students with food allergies or food sensitivities are known to their teachers and your staff.
Invite teachers, administrators, and parents to join the taste-testing in the cafeteria. Their support and excitement encourages students to participate. Collaborate with your school's administration to include reminders during the morning announcements.
Starting a countdown a few days or a week leading up to the taste-testing can create excitement. Use a calendar posted in or just outside the cafeteria to cross off the days prior to the tasting. Decorating with posters and balloons can also draw attention to your taste-testing.
More Tips
Coordinate your taste-testing with other celebrations such as National School Lunch Week (October), Heart Health Month (February), or National Nutrition Month (March).
For Read Across America Day (March) choose a recipe inspired by a favorite story such as Marcia Brown's Stone Soup, Lois Ehler's Growing Vegetable Soup and Eating the Alphabet: Fruits and Vegetables from A to Z, Eric Carle's The Very Hungry Caterpillar, Lauren Child's I Will Never Not Ever Eat a Tomato, or Lynne Cherry's How Groundhog's Garden Grew. Invite the principal, parents, high school students, or a local "celebrity" such as the mayor, policeman, fireman, or sports star to read the book during lunchtime.
The website smarterlunchrooms.org recommends using creative and descriptive names for vegetables to increase their selection. Younger children like whimsical names such as "X-Ray Vision Carrots" and "Super Strength Spinach" whereas, older children respond better to descriptive names such as "Crunchy Snap Peas" and "Fresh from the Garden Baby Greens." Involve a group of students to help with the naming. Display names close to your samplings.
Feature Vegetable and/or Fruit of the Month promotions throughout the year. Base your taste-testing activities on the seasonal vegetable or fruit highlighted that month.
Invite a local chef or use your own showmanship skills to demonstrate the recipe you are testing. Film the demonstration and use it to publicize your program with the local media.
Form partnerships with teachers, the principal, and curriculum coordinator. Select a food for your taste-test that supplements a unit being studied. For example: provide food from different regions of the country, a vegetable grown in the school garden or a local farm.
Thank taste-testers with a small give-away such as a sticker, pencil, or eraser.
Don't be discouraged if students are underwhelmed by a taste-tested food. Some children are wary of new foods. It may take several exposures to a food before it is accepted. Try serving a food in different ways or forms over time to see which works best with your students. For example, try sampling chickpeas on their own, in soups, salads, or pasta dishes or in a recipe for hummus. Regardless, have fun and role model positive behavior. Encourage, but do not force children to try new foods.
Here is a popular recipe from USDA Team Nutrition's Recipes for Healthy Kids Cookbook for Schools. Create a taste-testing event to pilot student likeability and ease in preparing. To view all recipes, cookbooks can be downloaded or obtained through Team Nutrition.
Mediterranean Quinoa Salad features the whole grain quinoa mixed with vegetables, feta cheese, and a light lemon dressing. A tasting of this salad is a great way to introduce students to a different whole grain and a medley of colorful vegetables.
Mediterranean Quinoa Salad*
Grains B-25r
Meal Components: Other Vegetable-Grains
Ingredients
50 Servings
100 Servings
Directions
Process #3: Complex Food Preparation
Weight
Measure
Weight
Measure
Quinoa, dry
3 lb 6 oz
2 qt ½ cup
6 lb 12 oz
1 gal 1 cup
1. Rinse quinoa in a fine mesh strainer until water runs clear, not cloudy.
Low-sodium chicken broth
1 gal
2 gal
2. Combine quinoa and broth in a covered stockpot and bring to a boil. Reduce heat and simmer until water is completely absorbed, about 10–15 minutes. When done, quinoa will be soft and a white ring will pop out of the kernel. The white ring will appear only when it is fully cooked. Fluff. Cover and refrigerate at 40°F.
Lemon juice
½ cup
1 cup
3. Dressing: combine lemon juice, vinegar, garlic, oil, salt, and ground pepper. Mix well. Set aside.
Red wine vinegar
½ cup
1 cup
Fresh garlic, minced
2 Tbs
¼ cup
Extra virgin olive oil
½ cup
1 cup
Salt
1 Tbsp 1 tsp
2 Tbsp 2 tsp
Ground white pepper
1 tsp
2 tsp
**Fresh red bell peppers, diced
11 oz
2 cups
1 lb 6 oz
1 qt
4. Combine red peppers, green onions, red onions, tomatoes, and black olives in a large bowl. Add dressing.
**Fresh green onions, diced
4 oz
1 cup
8 oz
2 cups
**Fresh red onions, diced
6 oz
1 cu
p12 oz
2 cups
**Fresh cherry tomatoes, halved
1 lb 6 ½ oz
1 qt
2 lb 13 oz
2 qt
Black olives, sliced
5 oz
1 cup
9 ½ oz
2 cups
Feta cheese, crumbled
6 oz
1 cup
12 oz
2 cups
5. Mix in cooled quinoa. Fold in feta cheese and parsley.
**Fresh parsley, finely chopped
2 cups
2 ½ oz
1 qt
6. Transfer to a steam table pan (12" x 20" x 2 ½"). For 50 servings, use 2 pans. For 100 servings, use 4 pans.
7. Critical Control Point: Cool to 41°F or lower within 4 hours. Cover and refrigerate until service.
8. Portion with 6 fl oz spoodle (¾ cup).
Notes
**See Marketing Guide for purchasing information on foods that will change during preparation or when a variation of the ingredient is available.
Serving
Yeild
Volume
3/4 cup (6 fl oz spoodle) provides 1/8 cup other vegetable and 1 oz equivalent grains.
50 Servings:
about 9 lbs
50 Servings:
about 1 gallon 2 cups2 steam table pans
100 Servings:
about 18 lbs
100 Servings:
about 2 gallons 1 quart4 steam table pans
Marketing Guide
Food as Purchased for
50 Servings
100 Servings
Red bell peppers
14 oz
1 lb 12 oz
Green onions
5 oz
10 oz
Red onions
7 oz
14 oz
Cherry tomatoes
1 lb 7 oz
2 lb 14 oz
Parsley
1 ½ oz
3 oz
Nutrients Per Serving
Calories
165.87
Saturated Fat
1.21 g
Iron
1.85 mg
Protein
6.66 g
Cholesterol
3.03 mg
Calcium
42.30 mg
Carbohydrate
22.66 g
Vitamin A
414.48 IU (24.27 RAE)
Sodium
278.10 mg
Total Fat
5.62 g
Vitamin C
12.38 mg
Dietary Fiber
2.67 g
*The grain ingredients used in this recipe must meet the Food and Nutrition Service whole grain-rich criteria.
References
United States Department of Agriculture, Food and Nutrition Service. (2010) Healthy Hunger-Free Kids Act of 2010. Retrieved from fns.usda.gov/cnd/Governance/Legislation/CNR_2010.htm.
United States Department of Agriculture, Food and Nutrition Service, Team Nutrition. (2012). Recipes for Healthy Kids Cookbook for Schools. Available at teamnutrition.usda.gov/Resources/r4hk_schools.html.
For More Information
The Department of Family and Community Health Sciences works with schools and childcare centers on a variety of wellness topics through a grant made possible by USDA Team Nutrition to the New Jersey Department of Agriculture. This initiative, Grow Healthy, assists schools with sustaining an overall healthier school environment through the promotion of healthful food choices by increasing vegetable and fruit intake. This includes classroom- or cafeteria-based nutrition lessons that often involve taste-testing activities. Visit growhealthy.rutgers.edu for more information.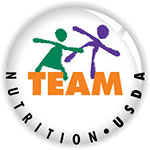 April 2014
Copyright © 2023 Rutgers, The State University of New Jersey. All rights reserved.
For more information: njaes.rutgers.edu.
Cooperating Agencies: Rutgers, The State University of New Jersey, U.S. Department of Agriculture, and Boards of County Commissioners. Rutgers Cooperative Extension, a unit of the Rutgers New Jersey Agricultural Experiment Station, is an equal opportunity program provider and employer.