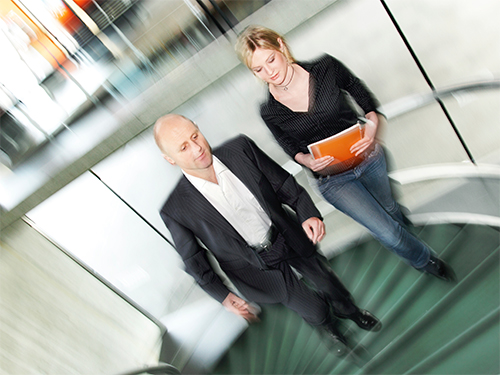 Cooperative Extension Fact Sheet FS1166
Joanne Kinsey, MS, CFCS, CWWS, Family and Community Health Sciences Educator, Atlantic and Ocean Counties
Job stress is defined as the harmful physical and emotional responses that happen when the requirements of the job don't match the capabilities, resources, or needs of the worker. Job stress can lead to poor health and even injury (CDC, 2014). Job-related stress is changing rapidly and can pose a threat to the health of workers. According to the American Psychological Association, 58% of Americans say work is a significant source of stress.
Job stress can lead to health issues. Therefore, reducing the level of stress is an important component to living a healthy lifestyle. Balancing a healthy diet, a physical activity routine of at least thirty to sixty minutes per day, and controlling stress are essential ingredients to maintaining a productive life while on and off the job. Workers can improve their health on the job by following a few simple strategies:
Take stress relief breaks throughout the day. A quick walk with a few extra steps, taking the long way to the lavatory or through the hallways can help release tense muscles and invigorate the body. A few minutes of quiet meditation can also refuel the mind for the tasks ahead.
Keep the desk organized. Take a few moments to clear the workspace and maintain a sense of control. A cluttered workspace makes it more difficult to find items in a hurry. Avoid such confusion by developing a method of organizing items and files.
Do not get behind in the work schedule. Maintain a comfortable pace of work and avoid stress related to procrastination. Satisfaction can be felt when tasks are completed. Savor the moment before moving on to the next task.
Surround the work-station with items and messages that provide inspiration. Consider including inspirational messages in email signatures, on bulletin boards, or colorful photographs near the workspace. A splash of color or a favorite photo can go a long way to uplifting a person's spirits.
Eat a balanced diet of colorful fresh fruits and vegetables. Prepare simple healthy lunches at home to avoid over-eating and consuming excess sugar, sodium, and fat, as these foods increase the level of stress on your body. Pack nutritious snacks that satisfy the need to chew and savor the taste of food like carrots, grape tomatoes, cherries, grapes, red or green peppers, zucchini, celery, apples, and oranges. A quick burst of flavor will awaken your senses and provide a boost of energy. Avoid satisfying craving at the nearest vending machine!
Drink water instead of sugar-sweetened beverages. Excessive amounts of sugar will do nothing to improve a person's attention to details while on the job! Make water the drink of choice to hydrate the body throughout the day and refresh the energy level.
Be proactive about reducing the incidence of stressful events. Take time to schedule regular car maintenance to avoid unexpected situations that result in lateness to work or an appointment.
Avoid conflict whenever possible, but understand that conflict occurs in most workplaces. Deal with minor issues before they become insurmountable. Approach conflict as an opportunity to improve a situation and find creative ways of reaching a resolution.
Manage projects before they manage you! Take time to divide large projects into small tasks that can be accomplished before moving on to the next step. Celebrate an accomplishment at the end of a time-consuming project.
Participate in daily exercise routines. Increased physical activity enables the body to work efficiently and maintain a high level of energy. A brief exercise routine before starting the workday will boost your energy level. Another brief period of exercise after the workday will help to relieve the stress of the day.
Find co-workers with enthusiastic, positive attitudes to share breaks and lunch. A few minutes of laughter and camaraderie will energize the spirit before returning to the desk.
Become a life-long learner. Engage the mind in new endeavors that stretch the imagination, jog the memory, and expand horizons. Consider taking a fun recreational class with a friend at the local community school to increase physical activity and relieve stress.
In summary, it is important to a worker's well-being to maintain a variety of healthy lifestyle behaviors. Whether on or off the job, workers should eat a diet rich in colorful fruits and vegetables, whole grain foods, and low-fat calcium foods. Reducing the amount of fat, sugar, and sodium in the diet helps the body optimize health. Water is the best choice for refreshing thirst. Keeping the workspace clean and clear will help maintain organization and a sense of calm while tackling tedious projects and tasks. While on the job take brief breaks as a welcome opportunity to stand, stretch, flex muscles, reduce fatigue, and add a boost of energy to help get through the busy day.
Additional Information
For more information, visit these websites:
Stress…at Work, Centers for Disease Control, National Institute of Health and Human Services, National Institute for Occupational Safety and Health
Photo credits: istockphoto.com
October 2019
Copyright © 2023 Rutgers, The State University of New Jersey. All rights reserved.
For more information: njaes.rutgers.edu.
Cooperating Agencies: Rutgers, The State University of New Jersey, U.S. Department of Agriculture, and Boards of County Commissioners. Rutgers Cooperative Extension, a unit of the Rutgers New Jersey Agricultural Experiment Station, is an equal opportunity program provider and employer.