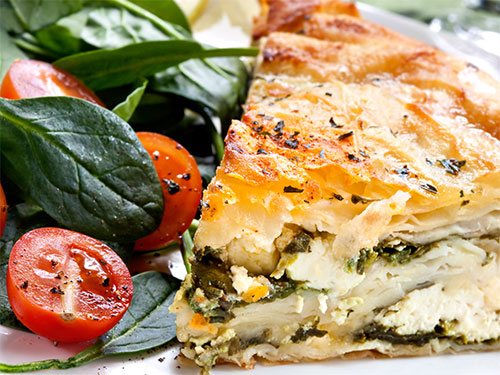 Cooperative Extension Fact Sheet FS1106
Joanne Kinsey, MS, CFCS, CWWS, Family and Community Health Sciences Educator, Atlantic and Ocean Counties
Apple Tuna Sandwiches
Ingredients:
2 6 oz cans unsalted tuna in water, drained
1 tsp honey
1 medium apple, chopped
6 slices whole wheat bread
1 celery stalk, peeled and chopped
6 lettuce leaves
¼ cup low fat vanilla yogurt
6 slices tomato
1 tsp prepared mustard
Combine and mix the tuna, apple, celery, yogurt, mustard, and honey. Spread ½ cup of the mixture on three bread slices. Top each slice of bread with lettuce, tomato and remaining bread. Cut sandwiches in half or as desired.
Number of servings: 3
Cups of fruits and vegetables per person: .75
Nutritional information per sandwich:
Amount Per Serving
Calories 330
Calories from Fat 30
Daily Value (DV)*
| | | |
| --- | --- | --- |
| Total Fat | 4g | 5% |
| Saturated Fat | 1g | 5% |
| Trans Fat | 0g | 0% |
| Cholesterol | 35mg | 12% |
| Sodium | 370mg | 15% |
| Total Carbohydrate | 37g | 12% |
| Dietary Fiber | 6g | 24% |
| Sugars | 14g | |
| Protein | 38g | |
| Vitamin A | | 40% |
| Vitamin C | | 20% |
| Calcium | | 15% |
| Iron | | 20% |
*Percent Daily Values are based on a 2,000 calorie diet.
Diabetic Exchange**
Fruit: 0
Vegetables: 0
Meat: 4
Milk: 0
Fat: 0
Carbs: 2
Other: 0
**Diabetic exchanges are calculated based on the American Diabetes Association Exchange System. This site rounds exchanges up or down to equal whole numbers. Therefore, partial exchanges are not included.
The American Workforce
In the U.S. there are 155 million full- and part-time workers. Workplace wellness programs help employees reduce health risks and improve the quality of life. Health promotion in the workplace benefits the employer and the employee in terms of reduced health care costs, reduced sick time, and increased productivity. According to the National Center for Health Statistics in 2016, 39.8% of the American adult population is obese and 31.8% are overweight. Eating a healthy diet on the job can help adults control weight, reduce the risk of chronic disease, heart disease, and some cancers.
This fact sheet is one of a four-part series: Workplace Wellness: Ways to Increase Your Physical Activity on the Job; Workplace Wellness: Stress Less on the Job and Workplace Wellness: Power Foods and Healthy Power Lunches are also available.
Healthy Snacking at Work
What about a mid-morning snack at work? Don't head for the vending machine to satisfy your hunger! Reach for a nutritious piece of fresh seasonal fruit, dried fruit, or yogurt to energize your morning.
Mid-Morning Snack Options:
Small yogurt or prepared yogurt smoothie
Low-fat cheese and crackers
Fresh peach, pear, apple, or banana
Pre-cut vegetables or fruit
A handful of dried fruit (raisins, dried cranberries, or blueberries)
Keep a bottle of water nearby as you work rather than reaching for a sweetened soft drink.
A Satisfying Lunch Helps You Sail Through the Afternoon
People often ask, "What can I eat for a healthy lunch?" Lunch not only provides a break from the workday, it also is a good opportunity to refresh your energy level for the remainder of the workday. A balanced lunch includes a tasty protein food, vegetables, and fruit. Putting it all together in an insulated lunch bag is easier than you think. It's well worth your time to pack foods that are nutritious, appeal to you, and are easy to eat while on the job. You will not only save money, but you will eat healthier too!
Try These Tips If You Are Packing Lunch for the Workplace:
A savory salad or vegetable wrap can be made by adding a serving of lean low-sodium turkey, chicken, or tuna.
Use whole grain wraps, tortillas, and breads to enhance the nutrient density of your meal.
Include hummus in a vegetable wrap or serve as a spread with pre-cut vegetables.
Add colorful and nutritious vegetables to your meal with fresh spinach, sliced tomatoes, red peppers, or cucumber slices.
Use low-fat cheese for extra calcium, protein, and flavor.
Try adding fresh fruit chunks with crunchy granola sprinkled on top of yogurt for a satisfying meal or snack.
When purchasing lunch, choose salads that include fat-free dressings on the side and lean low-sodium meat and cheese.
If you have access to a microwave oven, try a package of steamer vegetables or pop in a scrubbed sweet potato (top with a light sprinkle of cinnamon sugar before serving).
Save a serving of a hearty homemade soup from home, or choose a low-sodium prepared soup such as minestrone, bean, or vegetable combination.
Check the label when using frozen, prepared lunch entrees: look for low-sodium, low-fat options.
Drink water, fat free milk, or sugar-free drinks as your lunch beverage.
Fresh fruit packs well and makes a sweet dessert for your lunch.
Afternoon Snack
For an afternoon snack consider fresh fruit or crunchy colorful vegetables. Pack a plastic container or zip-lock bag full of broccoli pieces, red and green pepper rings, cucumber, fresh green beans, cherry tomatoes, baby carrots, snow peas, or celery sticks. A handful of salt-free walnuts or almonds make an excellent snack that adds some protein for some afternoon energy.
Keep a zip-lock bag tucked in your desk with these easy-to-eat quick snacks such as unsalted almonds and walnuts, raisins, dried cranberries, pumpkins, or sunflower seeds, or a dried fruit combination of your choice. A granola bar is also a good food that can be safely kept in your desk. If you have access to a refrigerator, keep a few low-fat containers of yogurt for a quick protein snack or lunch.
Our workforce can improve its health and productivity. By thinking ahead and planning for work snacks and meals, you can reduce the consumption of calories and fat. Plan simple, easy-to-eat foods that are nutritious and satisfying. Encourage coworkers to share in the preparation of a one pot-luck meal weekly by having each employee bring in a cut/chopped fruit or vegetable that can be combined to create a super salad bowl. The result will be a fun and interesting meal.
Additional Information
For more information, visit these websites:
Photo credits: istockphoto.com
October 2019
Copyright © 2023 Rutgers, The State University of New Jersey. All rights reserved.
For more information: njaes.rutgers.edu.
Cooperating Agencies: Rutgers, The State University of New Jersey, U.S. Department of Agriculture, and Boards of County Commissioners. Rutgers Cooperative Extension, a unit of the Rutgers New Jersey Agricultural Experiment Station, is an equal opportunity program provider and employer.