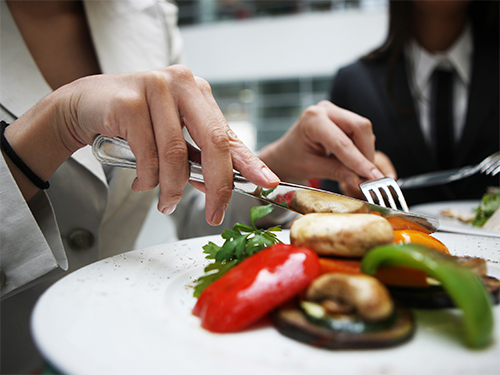 Cooperative Extension Fact Sheet FS1105
Joanne Kinsey, MS, CFCS, CWWS, Family and Community Health Sciences Educator, Atlantic and Ocean Counties
Chickpea Dip
Ingredients:
3 cloves garlic
¼ cup plain low-fat yogurt
1 Tbsp fresh lemon juice
1 tsp olive oil
¼ tsp salt
¼ tsp paprika
1/8 tsp pepper
1 (19 oz) can chickpeas, rinsed and drained
Put all ingredients into a food processor and blend until smooth. Serve at room temperature with pita chips, crackers, carrots, or other dipping vegetables.
Number of Servings: 4
Cups of Fruits and Vegetables per Person: .5
Nutritional information per ¼ of recipe:
Amount Per Serving
Calories 140
Calories from Fat 30
Daily Value (DV)*
| | | |
| --- | --- | --- |
| Total Fat | 4g | 5% |
| Saturated Fat | 0g | 0% |
| Trans Fat | 0g | 0% |
| Cholesterol | 0mg | 0% |
| Sodium | 30mg | 13% |
| Total Carbohydrate | 21g | 7% |
| Dietary Fiber | 5g | 20% |
| Sugars | 4g | |
| Protein | 7g | |
| Vitamin A | | 2% |
| Vitamin C | | 6% |
| Calcium | | 8% |
| Iron | | 10% |
*Percent Daily Values are based on a 2,000 calorie diet.
Diabetic Exchange**
Fruit: 0
Vegetables: 0
Meat: 0
Milk: 0
Fat: 0
Carbs: 1
Other: 0
**Diabetic exchanges are calculated based on the American Diabetes Association Exchange System. This site rounds exchanges up or down to equal whole numbers. Therefore, partial exchanges are not included.
Very often food and beverages are an important part of business meetings. Keeping the food choices nutritious while keeping them simple, attractive, and staying within budget limits can be a daunting task. According to the USDA's Healthy Guidelines for Americans, diets rich in foods containing fiber, such as fruits, vegetables, and whole grains, may reduce the risk of coronary heart disease. Also important to keep in mind is that diets rich in milk and milk products can reduce the risk of low bone mass throughout the life cycle. Meeting planners must make informed choices when adding food to the business agenda.
Why is the Food Planner Task so Challenging?
Meeting planners often find it difficult to design a meal or refreshment break menu that meets nutritional balance and is appealing to the meeting participants. It is good practice to inquire about food allergies, dietary restrictions, and religious, ethnic, or cultural food practices on meeting registration forms and before planning a menu. Another challenge is keeping the refreshment cost reasonable. A simple menu with fresh foods will likely be the most nutritious and cost efficient. Some planners may find it easier to purchase a selection of fresh fruit and pre-cut vegetables rather than use high cost menus from caterers.
Ready, Set, Plan a Healthy Meeting!
Choose a variety of foods that are low-fat, low in sugar, and low in calories. Remember to read labels to understand the ingredients in foods and to keep portion sizes reasonable. Keep in mind that a typical serving size of fruits or vegetables is ½ cup. Look for a food provider that offers healthy menu alternatives including low-sodium and low-fat options. Choose healthy foods and use the following suggestions as a guide:
When planning light refreshments consider fresh or dried fruit like raisins or cranberries.
Breakfast refreshments should include fresh fruit, yogurt, low-fat milk, and whole grain foods. Avoid serving pastries and donuts for breakfast.
Veggie trays are a colorful and healthy option. Make sure the dip is made with low-fat or fat-free ingredients! Serve salsa or bean dip for added nutrition.
Cold water is a refreshing drink during a meeting. If the budget allows, purchase small bottles of water for a simple beverage solution.
Serve small bagels, or bagels that are cut in half or cut in quarters, and use mini muffins rather than large high calorie versions.
Slice cheese thinly or cut into small chunks for a bite-sized piece.
Low-fat popcorn is simple and easy to eat.
Fruit juice and club soda make light and refreshing drinks.
Angel food cake served with fruit chunks and yogurt dip is sweet and satisfying.
When planning a luncheon be sure to add at least one vegetarian selection to the menu.
Low-fat cooking methods include: broiling, roasting, grilling, steaming, and baking.
Be sure to add a stretch break into the meeting agenda! Everyone appreciates a chance to stand and stretch after sitting for a long period of time.
Tips for Planning Successful Power Breakfast, Lunch, and Dinner Meetings
Choose a restaurant within walking distance of the office, and pass up "all you can eat" restaurants for meeting sites.
If you are meeting with more than three people, make a reservation so the restaurant is ready for you when you arrive.
Allow enough time to walk to the restaurant, eat while you discuss your business, and time to get back to the office. If your time is short, let the server know that you have limited time for the meal, or call ahead with the order.
Check ahead of time to see if the restaurant can accommodate dietary restrictions, religious, or cultural dining requests.
Choose a restaurant that offers a wide variety of menu selections such as interesting salads, nutritious side dishes, low-fat dressings, and lean foods that are prepared with low-fat cooking methods.
Look for foods that are freshly prepared using fresh ingredients. Select salads that are freshly prepared and include a variety of leafy greens, lean meat or low-fat cheese, and a colorful array of textures.
Request nutrition information or check websites ahead of time to see if nutritional information is provided.
Select colorful fruits and vegetables. Spinach, tomatoes, and red peppers make good additions to your lunch plate.
Grilled foods usually contain less fat than other choices. Be aware that high sodium foods may include: teriyaki, smoked, cured, and barbecued.
When the business meeting includes food it is important to make sure the food is nutritious, is relative to an appropriate serving size, attractive, interesting, and meets dietary needs. Snacks should contribute to the healthy diet of the meeting participants. By avoiding high fat, high sodium, and sweetened foods, the business can contribute to the health and wellness of its employees. Employers and employees benefit when healthy foods are part of the business agenda.
This fact sheet is one of a four-part series with titles Workplace Wellness: Healthy Eating While on the Job; Workplace Wellness: Ways to Increase Your Physical Activity on the Job; and Workplace Wellness: Stress Less on the Job also available.
Additional Information
For more information, visit these websites:
Photo credits: istockphoto.com
September 2019
Copyright © 2023 Rutgers, The State University of New Jersey. All rights reserved.
For more information: njaes.rutgers.edu.
Cooperating Agencies: Rutgers, The State University of New Jersey, U.S. Department of Agriculture, and Boards of County Commissioners. Rutgers Cooperative Extension, a unit of the Rutgers New Jersey Agricultural Experiment Station, is an equal opportunity program provider and employer.