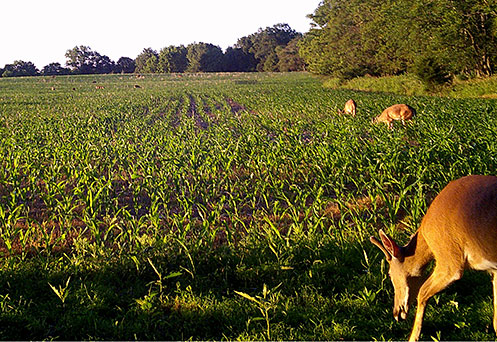 Between October 2020 and March 2021, Rutgers Cooperative Extension surveyed and interviewed a group of 27 farmers who shared stories of struggles with increasing white-tailed deer numbers and associated impacts to their farms and families.
The current case study builds on previous NJAES research that provides estimates of direct financial losses from deer eating crops. However, there are many other costs that are not as obvious. New information is provided on "hidden costs" associated with deer such as environmental impacts, safety concerns, abandoning fields, not being able to grow preferred crops, having to change crop rotations, the need for increased use of fertilizers and herbicides, time and money spent on deer management, and the emotional toll it can take.
Within this small pool of 27 farmers, the conservatively estimated impact of deer damage in 2019 was nearly $1.3 million. Additionally, farmers provided recommendations for enhancing deer management in the state. Challenges related to public awareness, residential development surrounding farms, and management on adjacent public and private lands are also addressed.
Documents