Cooperative Extension Fact Sheet FS1344
Meredith Melendez, Agriculture and Natural Resources Agent, Mercer County
Thierry Besancon, Extension Specialist in Weed Science, Plant Biology
Canada thistle (Cirsium arvense) is a perennial weed with a deep rooting system. It is commonly found on roadside edges, fallow land, and increasingly in farm production areas. Thistle tends to be more prevalent and therefore, a bigger issue, in perennial cropping systems, such as tree fruit and blueberries, and in no-till fields compared to annual cropping systems where there is regular cultivation. Canada thistle tolerates a wide range of soil conditions, especially in well-drained soils. It can spread rapidly by developing roots from which new shoots will emerge, and also through seed that is wind-dispersed over long distances. Because Canada thistle can form very dense patches, crops can quickly become choked out. Understanding the life cycle and biology of thistle is key to figuring out the best options for its control on your farm.
Plant Description and Growth Habit
Large thick patches of Canada thistle can form from just one plant. These patches can rapidly outcompete planted crops and serve as a root and seed source for continued spread of thistle. Eradication of established patches is difficult because of a deep root system that can easily regenerate new shoots, and small root fragments separated from the main plant can also generate new shoots. Early detection and multiple control methods are critical to prevent the establishment and spread of Canada thistle throughout the farm.
Appears in early spring as a rosette of leaves growing close to the ground.
Hollow stems become branched and are sometimes hairy.
Plants can grow up to 5' tall.
Leaves are lance-shaped, alternate, and have lobed, spiny edges.
Vertical and lateral roots can extend up to 15' depending on soil conditions, with one single plant able to produce up to 26 above-ground shoots, 154 underground shoots, and 364 feet of roots.
Bud stage occurs in late-May through mid-June, with purple flowers opening from June to mid-October.
Canada thistle has both male and female plants; male flowers are about ½" in diameter and female flowers are about 1" in diameter.
The female plant can produce up to 45 seeds per flower and are dispersed via wind, water, animals, and equipment.
Each seed is attached to a feathery white tuft, which helps with wind dispersal.
Seeds can survive up to 20 years when deeply (1') buried, but most will become non-viable after a few years, especially near the soil surface.
Canada thistle grows best in full sun and disturbed upland soils but can also survive in cooler, wet soils and more shaded situations. Canada thistle can also tolerate drought conditions.
Zoom in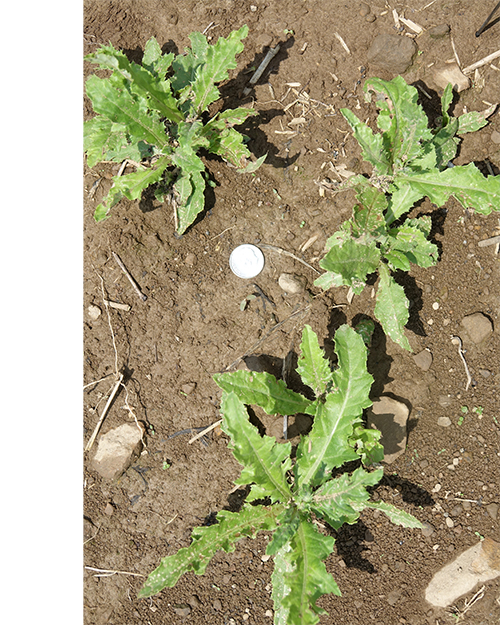 Fig. 1: Young thistle plants.
Zoom in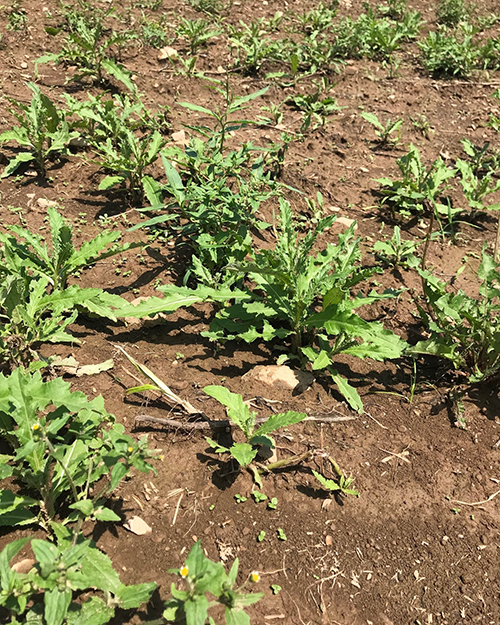 Fig. 2: Bare ground thistle.
Zoom in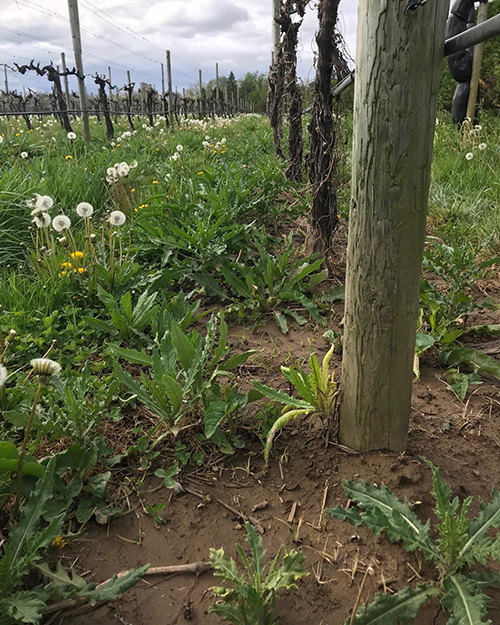 Fig. 3: Vineyard thistle.
Management Strategies
Control of Canada thistle in production areas is a multi-year process involving a combination of different strategies for effective control. Once Canada thistle is found, control measures should be implemented that deplete the energy reserves found throughout the extensive root system without providing opportunities for the plant to replenish these reserves. Organic and no-spray farming operations can utilize well-timed mowing, hand weeding, cover crops, and tarp for shade to provide conditions that will help current and future crops outcompete Canada thistle. As for chemical control options, a study was completed at Rutgers that assessed the impact of Organic Materials Review Institute OMRI-approved herbicides on the growth of thistle. This research revealed that none of the products evaluated had any impact on the plants.
Prevention
Farm equipment may be a very important source of Canada thistle infestation by moving seeds or fragments of roots throughout the farm and to other properties. Therefore, thorough cleaning of equipment should take place before moving from an area infested with Canada thistle into a clean area. This is especially important as Canada thistle seeds are small (0.1 to 0.2" long) and can be hard to detect.
Scout for early-season detection of Canada thistle, especially in areas where populations are known to be established.
In areas where Canada thistle is present, avoid growing crops that require little management during the growing season. Low management crops create an environment for Canada thistle to grow unimpeded, producing a large seed bank and extensive root structures.
Weeding, Mowing, and Cultivation
Persistent, hand weeding of young Canada thistle shoots from early-spring through fall on a regular schedule and before they produce more than 3 leaves can drastically reduce populations over a two-year period.
Repeated mowing or weed-whacking of established populations, especially in late spring through blooming, on a seven- to ten-day schedule, will help prevent seed formation and reduce energy reserves in the roots during the growing season.
Grow crops that require repeated cultivation close to the production row to disturb young shoots. Note: a single cultivation event will only serve to spread thistle throughout the field; cultivation to control thistle should not begin unless you can schedule to repeat it for the remainder of the season.
Consider a grain crop, like alfalfa, that requires several mowings during the production season in fields where suppression is needed.
On diversified farms with livestock, high-intensity, low-frequency grazing over a two-year period can provide suppression.
Competition
Plant dense cover crops, like sorghum-sudangrass, that can be mowed several times during the production season.
Farm Decision Tool
Canada thistle management is a long-term process for farms not relying on herbicides or fumigants. Identification and mapping of existing Canada thistle populations on the farm, and reflection on your activities and how they impact these populations, are the first steps to developing a management plan.
Use the tables below to identify your Canada thistle populations, current management methods, and develop a plan of action to eradicate Canada thistle from your production areas.
| Field | Size of Population/Specific Locations | Suspected Introduction |
| --- | --- | --- |
| Example: Field 4 | Single population about 15' wide | Equipment borrowed from JM |
| | | |
| | | |
| | | |
| | | |
| | | |
| | | |
| | | |
| | | |
| Current Strategies | Timeframe |
| --- | --- |
| Example: hand weeding | spring |
| | |
| | |
| | |
| | |
| | |
| | |
| Potential Future Strategies | Timeframe |
| --- | --- |
| Weed on 21-day cycle, mow monthly | spring-fall |
| | |
| | |
| | |
| | |
| | |
| | |
| | |
| | |
References
Uva, R. Weeds of the Northeast, Cornstock Publishing.
July 2022
Copyright © 2023 Rutgers, The State University of New Jersey. All rights reserved.
For more information: njaes.rutgers.edu.
Cooperating Agencies: Rutgers, The State University of New Jersey, U.S. Department of Agriculture, and Boards of County Commissioners. Rutgers Cooperative Extension, a unit of the Rutgers New Jersey Agricultural Experiment Station, is an equal opportunity program provider and employer.