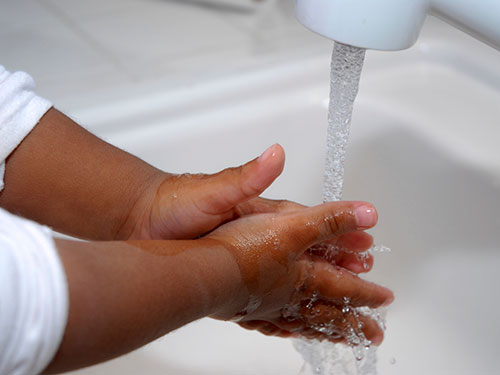 Cooperative Extension Fact Sheet FS1056
Karen Ensle, EdD, RDN, FAND, CFCS, Family and Community Health Sciences Educator, Union County
Grab & Go Safe Foods
Tip 1: Two hours or more at room temperature is trouble—refrigerate at 40°F (or colder) all food including meat, poultry, fish, dairy products, cooked pasta, rice, veggies, cut fresh fruits, and salads.
Tip 2: Cool it down ASAP. Refrigerate hot takeout foods right away. Leave container covers open slightly until cool—then cover tightly once food is chilled.
Divide large quantities into shallow containers, refrigerate immediately, and when completely cooled, cover tightly. Leftover pizza, snacks, and meals need to be refrigerated soon after eating. Toss out food if left out for over two hours.
Tip 3: Avoid delay, eat right away. Eat takeout foods and leftovers within a day to be food safe!
Tip 4: Safely reheat. Reheat takeout food in a microwavable dish, NOT the original container it came in.
Tip 5: In Doubt? Toss it out! Bacteria may not smell or taste bad. It is impossible to see foodborne microorganisms. It can take 30 minutes to several weeks before a person feels sick. Proper food handling keeps food safe. If you don't know if it has been handled safely, throw it out—it's cheaper than a hospital emergency room visit!
Microwave Heating of Food
COVER container with lid, wax paper, or white paper towel. If using plastic wrap made for microwaving, make sure it does not touch the food during heating, as it may melt. Wax paper, kitchen parchment paper, white paper towels, or a domed container cover are better alternatives. All products should say they are microwave safe. STIR/ROTATE food for even heating. REHEAT FOODS UNTIL STEAMING HOT! (165 °F)

Keep Foods Out of the Danger Zone!

Keep HOT FOODS hot at home or when you buy takeout foods. Eat and enjoy within two hours to prevent harmful bacteria from multiplying. If you cannot eat within two hours, refrigerate and then re-heat as a "leftover" to 165°F (see thermometer).
Use a food thermometer to check temperatures of side dishes like stuffing. Keep food covered and hot until eaten.
Keep COLD FOODS cold in the refrigerator or frozen in the freezer.
All foods should be eaten within two hours of preparation, OR stored in the refrigerator or freezer if not eaten within 1–2 days.
Mistakes People Make
Not washing hands before handling food.
Not re-washing hands when handling raw meat, poultry, or fish and then preparing other foods.
Not washing hands for 20 seconds or more. Sing the ABC song or "Happy Birthday" twice as you wash your hands with soap and warm water.
Placing clean foods in unwashed containers. Use plastic food storage bags only once.
Make sure plastic containers are washed in soapy water, rinsed, and dried before adding food or beverages to them.
Keep a food storage chart for refrigerated, frozen, and dry goods in your kitchen and use each day as you prepare to store foods properly.
Keep refrigerator clean and get rid of old foods. Check dates. If you can't remember when it was purchased—throw it out. Date and label all leftovers and foods/beverages going into the freezer.
Holiday Meals, Picnics, Tailgate Parties
Once food is hot it should be held at an internal temperature of 140°F or higher.
Keeping food warm on a stove or leaving it on the counter is dangerous!
Takeout food should be refrigerated if not eaten within two hours of delivery.
Divide into smaller portions and refrigerate or freeze.
Keep cold foods under 40°F or below.
Food on a buffet table needs to be on a heating unit or on ice if it is a cold food.
For picnics, use coolers with ice or frozen gel packs. If it is hot outside (over 90°F), illness-causing bacteria can multiply quickly and one hour is the rule.
Keep your family safe throughout the year and follow safe cooking and food storage recommendations.
For more info: Department of Family and Community Health Sciences and Get Moving - Get Healthy New Jersey
October 2020
Copyright © 2023 Rutgers, The State University of New Jersey. All rights reserved.
For more information: njaes.rutgers.edu.
Cooperating Agencies: Rutgers, The State University of New Jersey, U.S. Department of Agriculture, and Boards of County Commissioners. Rutgers Cooperative Extension, a unit of the Rutgers New Jersey Agricultural Experiment Station, is an equal opportunity program provider and employer.