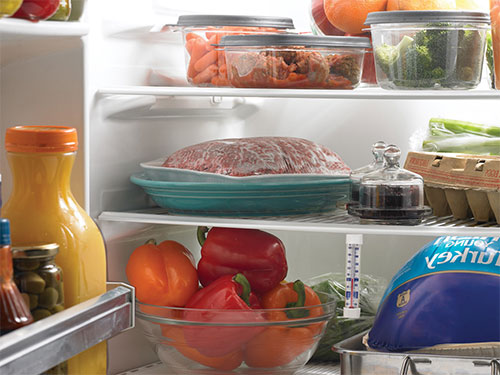 Cooperative Extension Bulletin E340
Daryl Minch, M.Ed., CFCS, Family and Community Health Sciences Educator, Somerset County
Foods that require refrigerator or freezer storage will taste and look better if you use them within the recommended storage time.
Quality vs. Safety
Good quality food tastes, smells and looks fresh. A safe food will not make you sick. Sometimes food contains microbes that can make people ill. These include bacteria, viruses, molds and parasites. Unfortunately, how a food looks is not always an indicator of safety. An unsafe food may look and smell fine but contain microbes that cause illness. For example, a huge pot of hot chili in the refrigerator will not cool quickly and may support bacterial growth that could make someone sick. However, chicken with freezer burn is safe, yet poor quality. The goal of proper food storage is to provide both safe and high quality foods. A food's quality depends on the condition of the raw food and how the food is made and stored.
Start with Good Quality
Fresh fruits and vegetables: good color, fresh smell, and the right degree of firmness. Produce does not have to look "perfect"–small cuts, spots, soft spots, or bruises are "ok". Avoid produce that is starting to show spoilage such as mold, major soft spots, or has deep cuts.
Refrigerated foods: cold with clean packaging. Buy what you will use within the recommended storage times so food does not spoil before use.
Frozen foods: frozen solid with packaging free of discoloration or food residue since these may be signs of thawing and refreezing.
Dates are only required on infant formula. Other dates are optional. A code date or number is only for manufacturers to track their products and does not reflect quality or safety. The Food Safety and Inspection Service gives these examples of common terms:

A "Best if Used By/Before" date indicates when a product will be of best flavor or quality. It is not a purchase or safety date.
A "Sell-By" date tells the store how long to display the product for sale for inventory management. It is not a safety date.
A "Use-By" date is the last date recommended for the use of the product while at peak quality. It is not a safety date except for when used on infant formula as described below.
A "Freeze-By" date indicates when a product should be frozen to maintain peak quality. It is not a purchase or safety date.
Expiration Date or "Do Not Use After" is the last day you should eat or use the food. The food may have lost quality or not produce the desired results. An example would be that the baking soda in the cake mix will no longer make the cake rise.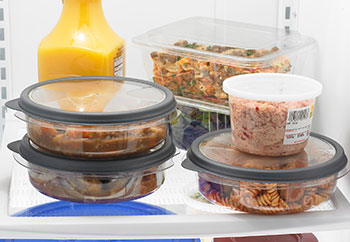 Keep it Cold
Keep thermometers in the refrigerator and freezer.
Open doors as little as possible to maintain temperature and food quality.
Follow the rule: First In, First Out which means using the oldest foods first.
Write purchase dates on products without dates on the package. Write dates on leftovers and foods going into the freezer.
Refrigerator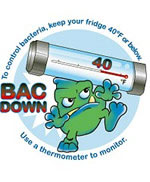 Keep the temperature at 35°–40°F.
Wrap or cover food to prevent the loss of flavor and moisture. This also prevents the mixing of flavors and odors.
Place raw meat, poultry, or fish on a plate and put on the lowest shelf in the refrigerator to prevent dripping onto and contaminating other foods. Wrap or package leftovers to keep them from leaking and drying out.
Follow the rule: 4 Days Throw Away for most leftovers.
Freezer
Keep the temperature at or below 0°F. If the temperature is higher than 0°F, the food will not keep its good quality as long.
Keep your freezer full of food or add ice. A full freezer holds its temperature better.
Wrap foods in moisture-proof freezer-weight wrap or use containers. Examples of wrap are plastic or silicone freezer bags, heavy foil, and freezer paper. Label and date packages.
Freezer burn is a dry spot, often white or gray in color, caused by cold air drying out the surface of the food. It will not make you sick, but the food will be dry and tough. Wrapping food tightly and sealing out air will help protect the food.
Ice crystals or frost may appear on food or in packaging during freezer storage due to moisture evaporation. The food will be dried out. It is more common in baked goods, fruit, and vegetables. Wrap food tightly, seal out air, and follow storage guidelines to minimize moisture loss.
Frozen food stored beyond the recommended time will be safe to eat. However, the food may be dried out, tough, and flavor or texture may change.
Some foods do not freeze well—see the list at the end of this fact sheet.
Keep It Clean
Since bacteria can get into food during handling, keep everything—hands, countertops, dishes, utensils, and the refrigerator and freezer—clean. Wash your hands with soap and warm water for at least 20 seconds before putting away groceries, preparing food, or putting away leftovers. This will greatly reduce the risk of spreading bacteria and viruses and getting sick.
How Long Does Food Keep?
Download the easy to use Foodkeeper App for Food Storage Guidelines from USDA or go to Foodsafety.gov for storage charts.
Foods That Do Not Freeze Well
Because flavor changes:
Garlic (raw)
Onion (raw), better cooked or as an ingredient
Salt substitutes (table salt-sodium chloride-is OK)
Spices—clove, sage (flavor is stronger or bitter)
Vanilla, artificial flavor (not real vanilla)

Because texture changes:
Cake icing—soft or boiled (butter cream freezes well)
Cream sauces
Custard or cream filling
Egg whites—cooked & meringue
Fried foods (homemade)
Gelatin
Mayonnaise or salad dressing
Lettuce
Pasta (cooked, un-sauced)
Potatoes
For More Information
April 2020
Copyright © 2023 Rutgers, The State University of New Jersey. All rights reserved.
For more information: njaes.rutgers.edu.
Cooperating Agencies: Rutgers, The State University of New Jersey, U.S. Department of Agriculture, and Boards of County Commissioners. Rutgers Cooperative Extension, a unit of the Rutgers New Jersey Agricultural Experiment Station, is an equal opportunity program provider and employer.